Orlando's Local Coffee Shops Creative And Community-Driven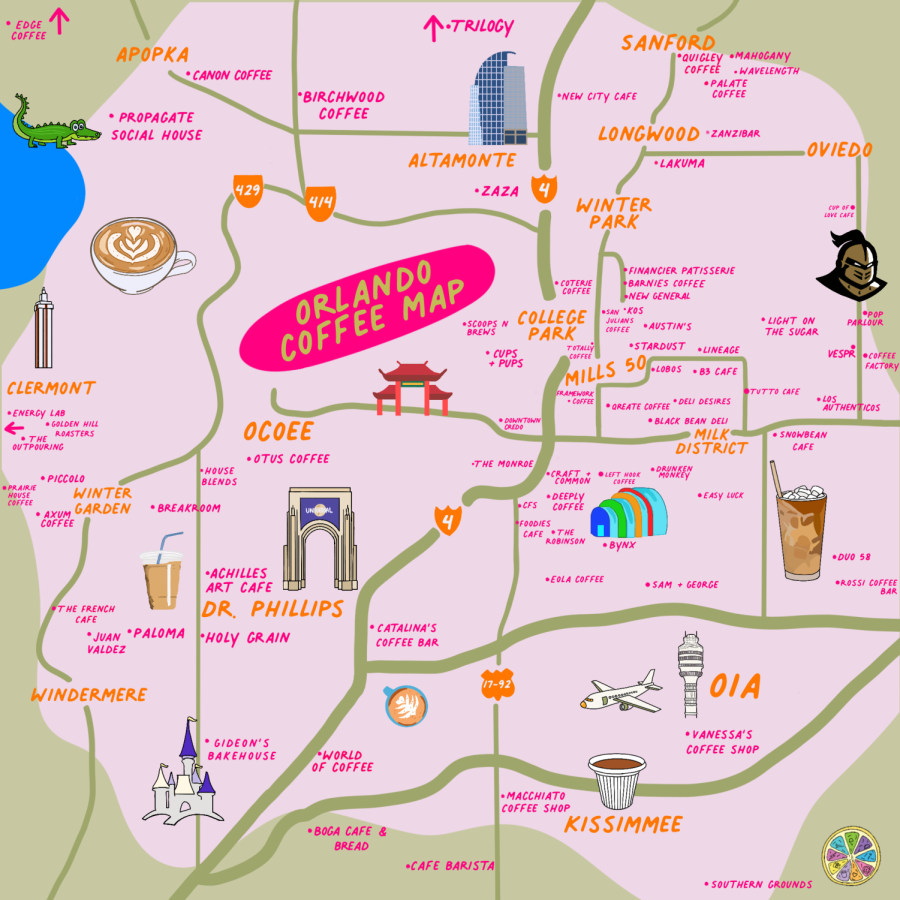 Orlando is home to a large and unique coffee scene serving, and caffeinating, the community. From black coffee to cereal oat milk lattes, the City Beautiful has a coffee shop for everyone.
"It's crazy how much it's changed over the past couple of years," Lindsey Thompson, an Orlando lifestyle blogger, said, "There's really never been so many options." Thompson runs LemonHearted, a popular lifestyle blog, sharing with her 29.1k Instagram followers a local's honest, authentic guide to Orlando.
Quay Hu is the owner and founder of Qreate Coffee + Studio in Mills 50. Hu wanted to create a space that was a perfect blend of his two passions; coffee and photography. Hu describes Qreate as a hybrid coffee shop with a photo studio.
"I wanted to build a space that promotes creativity and networking within the creative community through events," Hu said. "If you come to the shop at any time, you'll meet lots of photographers, videographers, models, bloggers, people that work from home."
Qreate (Create spelled with a Q for Quay's first name) specializes in craft coffee. Thought and care has gone into every single item on their menu. Hu, who has his SCA certification, collaborates with his baristas for their specialty coffees and seasonal drink menu to create a truly delicious and memorable experience.
"Qreate probably has one of the most creative menus, I would say, for seasonal or just fun flavors." Thompson said.
Lobos Coffee Roasters
A testament to any coffee shop is longevity and resilience. On Corrine Dr., across the street from The Salty Donut and just a block from East End Market, you'll find Lobos Coffee Roasters.
Despite opening in December 2020 during the Covid-19 pandemic, Lobos Coffee Roasters has kept their doors open. The community rallied around the new addition to Audubon Park.
"We sent out an Instagram [post] that we'll be open at two for limited hours… At 1:45 p.m., people started lining up to come in and check us out. That weekend, we had a 45-minute wait. The community really embraced us." Owner Tony Villalobos said.
Villalobos, a UCF Rosen College Hospitality Program alum, comes from a coffee family; his grandmother owned a coffee farm in Panama. While in the service industry, he worked for hotels and restaurants. An idea was born: Villalobos would merge his two passions. The result is Lobos Coffee Roasters.
Villalobos set out to create a space that catered to its community's needs. He wanted a place where people felt comfortable to work, to study, and sit down for a couple hours.
In addition to coffee, Lobos also has a variety of food items on their menu, as well as a beer and wine list. Villalobos wanted to go above and beyond what one would expect from a coffee roaster.
"It really was a driving force especially with the community and they're still supportive," Villalobos said. "They still love us, and we love that."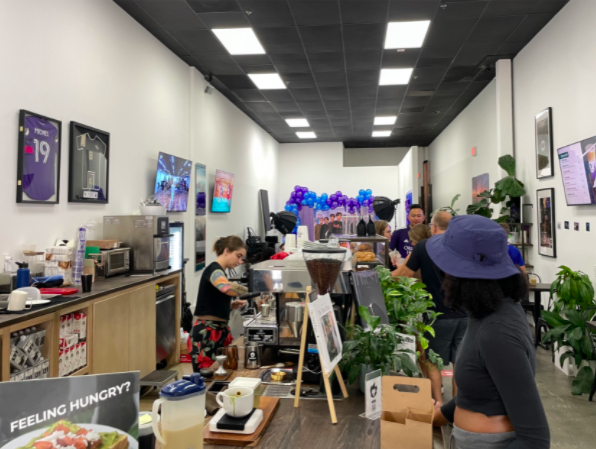 Blackbird Comics & Coffee
In Maitland on Horatio Ave., there is an extremely unique coffee shop– Blackbird Comics & Coffee.
Walking through large glass doors, you find to the left of you rows of comics, manga, and graphic novels. To your right you see action figures, collectable figurines, and board games. Old vinyl and cassette tapes are for sale against the back wall. In-between the two, you find the heart and soul of Blackbird Coffee & Comics: a large open seating area, and a coffee counter.
"To us, it's a perfect marriage." Candice Falkner-Craig said. Falkner-Craig owns and founded Blackbird Comics & Coffeehouse alongside her husband, David, four years ago.
Falkner-Craig and her husband left their old careers and stressors behind to pursue their dream: opening a coffee shop. At the age of 12, Falkner-Craig's grandmother gave her her first cup of coffee. "Every day since I was 12, I've had coffee. I love coffee."
The husband and wife team took over the empty storefront that used to be home to the Melting Pot, but had sat empty for years.
"David and I did most of everything you see," Falkner-Craig said. "We busted up the tiles, polished the floors, and just everything you see, we've done it ourselves."
Falkner-Craig said. "At the end of the night, we were closing up. They brought this big, messy, crumbled up brown bag. One of them said, 'Hey, so we were on this campaign and we fought this boss and at the end, there was this chest with loot in it, and it had your name on it."
When the shop first opened four years ago, their focus was on getting the retail side up and running: the comic books, games, and collectable side of things, with plans to have the coffee show up and running a few years down the road.
Within that first year, they did a slow rollout with the coffee shop.
"It's just grown exponentially," Falkner-Craig said. "One of the key things for us is that we wanted to create a spot where everybody walks in here and will immediately feel at home, feel welcome, and know they can be here and be safe and genuinely cared about."
She goes on to say that they are very proud of their shop. "It's an interesting balance, because it is a retail store. But we have dedicated what could be a lot of retail space, to just tables for people to hang out at." Falkner-Craig turns in her plush armchair.
"Those people," she points to a table where three young men sit in the middle of a Dungeon & Dragons campaign. "They come in, they're just sitting at the table and playing games." She next points to a man and a woman seated at one of their boots. "They're here, I'm going to guess, collaborating on something, and they can be here all day and it's fine."
Falkner-Craig said that if you come to their shop, you will never feel anything but warmth. "My grandmother gave me that first coffee, and it was so good to me. It was so warm. I associate coffee with a feeling of warmth."
Blackbird is a real labor of love, and the community gives that love right back.
Blackbird, like many other businesses across the country, faced some hardships when they closed their doors for eight weeks because of the Covid-19 pandemic.
"The night before we are going to close, the D&D players that were here were playing their last game they had played for a while," Falkner-Craig said. "At the end of the night, we were closing up. They brought this big, messy, crumbled up brown bag. One of them said, 'Hey, so we were on this campaign and we fought this boss and at the end, there was this chest with loot in it, and it had your name on it."
Falkner-Craig's eyes start to glisten with tears as she continues, "I opened the bag and it was just filled with money; hundreds of dollars. It was filled with hundreds of dollars for them to try and help us. But that is our community. We all embrace each other. We all support each other."
What are your favorite coffee shops? Leave a comment. 
---
Qreate Coffee + Studio
Quay Hu, owner and founder [email protected]
Store: 407.601.1796
Socials: qreatecoffee
Blackbird Comics and Coffeehouse
Candice Falkner-Craig, owner and founder [email protected]
Store: 321.316.4296
Socials: blackbirdcch
Lobos Coffee Roasters
Tony Villalobos, owner and founder [email protected]
Store: 407.335.4185