Book Nerds Enjoy Picnic on the Lawn on May 25
On Wednesday, May 25, Valencia's Book Nerds club hosted a picnic in the shade in front of Building 4 at 12:30 pm, inviting club members and students to partake in free food, board games, books, Book Nerd merchandise and a picnic drawing at the end. Prizes ranged from puzzles to movie tickets and gift cards.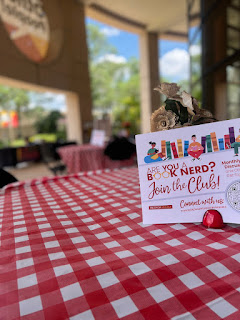 "I think the goal [of today's event] was to promote the club to students who may have not known about the Book Nerds because we've been meeting through Zoom for about two years or so now. So a lot of students that are coming on campus may not know that we have an awesome book club here. Today's goal was just to let the students know that we're here and about some of our meetings for the summer that we're gonna have." explained Courtney Moore, Book Nerd club's Faculty Advisor and Valencia East Campus Librarian. Moore has been with Valencia College since 2012.
---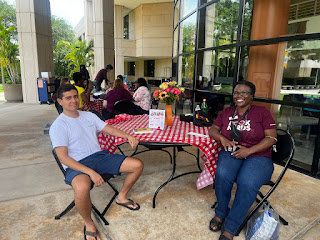 Moore explains, "The Book Nerds is a student-led book club and it provides a venue for students to get together and share common interests through books. It's a great place to meet your peers and discover new book genres that you may have not known about."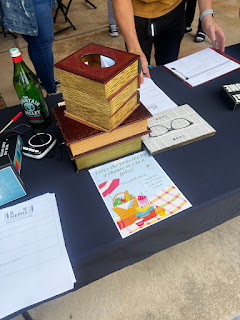 Students enjoyed Publix subway sandwiches on picnic themed tablecloths and were able to share their book interests and recommendations at a sign-in.
Book Nerds President Gezheus Santa Cruz, 28, Business Administration, addressed reintroducing in-person events after the college has begun to relax it's safety rules since the pandemic. "We're starting to have more in person events. Because of COVID-19, we have been mostly on Zoom so now that the college is moving to more in-person again, we're trying to test the waters and see who's going to come as well as what type of events we're gonna have in the future."
"I'd say if you like to read or [learn] about one small to medium sized book a month, check us out. We're a pretty good club," concluded Santa Cruz.
Book Nerds is currently looking for new officers and members to join. For any questions the club can be reached on Valencia's Engage website on Atlas, by getting in touch with Courtney Moore at the East Campus Library Building 4 or through the club email at [email protected].