Valencia Dance Professor Changing Lives Through Movement
Valencia College Dance Professor Dr. Suzanne R. Salapa has dedicated her life to making a difference in the lives of Valencia students and patients with Parkinson's disease. Parkinson's disease is a progressive nervous system disorder that affects movement. Alongside Advent Health Neuroscience Institute, Dr. Salapa encourages patients with neuromuscular disorders to get moving through her Movement in Medicine class. The class meets twice a month but the difference lasts a lifetime.
Dr. Salapa, Chair of the Department of Dance in the School of Arts and Entertainment, began her journey with Valencia College in 1994. At the time, Salapa was part of the dance faculty at Rollins College where she met a colleague and was offered the opportunity to participate in the dance program at Valencia. Salapa joyfully accepted and continued her dance education, obtaining her Doctor of Education in Curriculum and Instruction at the University of Florida. By 2006, Dr. Salapa received the Dance Teacher Magazine Higher Education Teacher of the Year award.
As her career with Valencia began to grow, Dr. Salapa was introduced to the Mark Morris Dance Group (MMDG) in 2014. The MMDG is a national dance program designed to educate people of all ages and abilities in dance and music. Through the program, she participated in the Dance for Parkinson's Disease (Dance for PD) training program. After the training, she received the job at Advent Health. According to Dr. Salapa, "The rest was history."
Dr. Salapa spoke passionately about helping the neuromuscular community for the past eight years saying, "My heart was starting to beat very rapidly for this special wonderful group of people that watch TV or watch shows just like you and I, that may, because of wheelchair confinement, may not be able to get to do what we look like doing. However, can make movements to create something even greater for them." She continued, "I knew I wanted to do this. I knew I loved it."
Movement in Medicine is vital to the health and well-being of patients with neuromuscular conditions. "I can rattle off a lot of the neuromuscular benefits, which is great… but for me what's most important is the change in confidence", said Dr. Salapa of the benefits of the program. She continued to describe "What's most profound is really a visual difference because a lot of people, men and women, are very skeptical of 'Oh, it's a dance class', and they think that they have to be exceptionally experienced in dance to be able to participate and that is not the case at all. You just have to want to move."
She continued, "there's so many components that go along with (Parkinson's Disease) and all of the sudden, they just disappear. They are just dancers dancing and that's probably what's most magnificent."
Dr. Salapa encourages anyone and everyone to dance and get moving. "This is what we say here at Valencia, everyone can dance. Dance is for everyone. Everyone can dance!" The Movement in Medicine class is designed to help patients, but "normal aging is going to give you very specific components… If you don't move it, you will lose it."
The program grew rapidly until the pandemic hit. According to Dr. Salapa, the program suffered. There were many concerns. Because of the medical facility, there was a lot more caution and no rush to return to in-person classes. Salapa understood the importance of safety for her students. Due to COVID-19, she lost members of the program. "The hardest part of my job; to hear someone passed away", said Salapa of the losses suffered during the pandemic. Fortunately, technology made it possible to continue the class through Zoom, providing hope to her students during a difficult time. Dr. Salapa continued the program virtually, as the show must go on.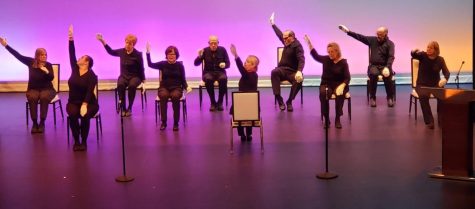 On March 1, 2022, Dr. Salapa and the Movement in Medicine class resumed in person for the first time in two years, while continuing virtually, allowing patients all over the country to log in and join the program. "It's a hard class, but it feels good", said Dr. Salapa.
The focus of Movement in Medicine has been on Parkinson's Disease specifically, but as of January 2022, Dr. Salapa and Advent Health have begun "encouraging other neuromuscular disorders to come into the mix as well and they're loving it and benefiting as well!"
As the wheels continue to turn and face-to-face programs are returning to Valencia College campuses, Dr. Salapa is hoping Valencia College students return to the program, also. Previously, the Movement in Medicine students participated every year at Valencia dance performances. Valencia dance majors partnered with the Advent Health students and assisted them with any needs necessary to participate in the dance performances, creating a relationship between Salapa's Advent Health and Valencia students. Advent Health labeled Valencia students "Valencia Dance Angels" as they made their patients feel more comfortable and celebrated the patient's personal growth.
This summer, Dr. Salapa will begin to prepare all her dancers to fully return by Nov 2022. Save the date! The showcase date will be announced, but Salapa encourages students to keep the calendar clear between Nov 14-19. Only meeting in person once a week, Dr. Salapa has faith that it can be done and inspires her students by simply saying, "We'll do it. We'll just make it work."
See Dr. Suzanne R. Salapa speak passionately about Movement in Medicine. "Dance is so important for all of us!"
Active Lifestyles | Dance Therapy