Breaking News: US Senate Votes Ketanji Brown Jackson As First Black Female Supreme Court Justice
Today, Florida-raised Judge Ketanji Brown Jackson has made history as the Senate voted 53 to 47, making Jackson the first Black woman to sit at the Supreme Court. Upon Justice Stephen Breyer's retirement, Jackson will take the oath of office and resume duties at the highest court of the United States.
Ketanji Brown Jackson, 51, is a mother of 2,was born in Washington D.C. but has spent the majority of her life in Florida. She graduated from Harvard Law and began her judicial career as an assistant to the federal public defender. She has since climbed the ladder to success, including serving eight years in the U.S. District Court, solidifying the vice chair of the U.S. Sentencing Committee and now becoming the first Black female Supreme Court judge.
President Biden nominated Ketanji Brown Jackson back in February and has since tweeted in support of Jackson saying she "is one of the nation's brightest legal minds and will be an exceptional Justice." He continued to say "we've taken another step toward making our highest court reflect the diversity in America."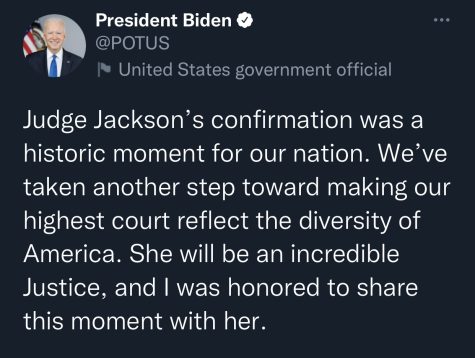 According to Florida Politics, many Florida State representatives are in full support. Florida State Senator Annette Taddeo considered Jackson "eminently qualified", while Miami-Dade County Mayor Daniella Levine Cava called Jackson's nomination "great hometown pride."
Justice Jackson will address the nation, alongside President Biden and Vice President Harris, on Friday at 12:15 p.m., directly from the White House.
Stay tuned for updates and Valencia student and staff reactions.