Valencia College, Black Advisory Committee Continue 52 Years of Diversity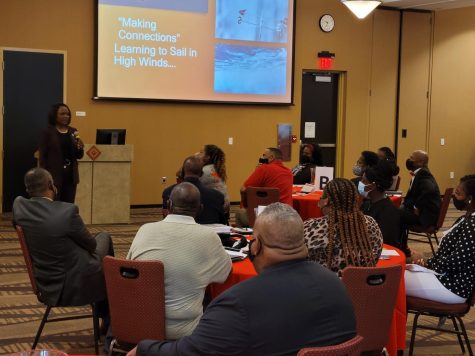 In honor of Black History Month, Valencia Voice recognizes Valencia College's Black Advisory Committee. This year marks the 52nd anniversary of the Black Advisory Committee (BAC). The committee is dedicated to creating opportunities for Black students campus-wide by providing scholarships, mentoring, and additional resources.  Valencia College recognized the BAC at the Jan. 27 District Board of Trustees meeting, as well as provided Valencia College BAC logo jackets and a group photo with its representatives. 
In 1970, the Black Advisory Committee was established as the Black Student Union to attract and inspire African Americans to enroll. Though Valencia College started accepting minority students three years prior, the college struggled to get the students excited about enrollment. Therefore, in 1971, the committee held a community meeting designed to inform the public of Valencia's degrees and programs. These community efforts have evolved over the years and are continuing today. 
In a collaborative video shared on Valencia College's social media, Valencia College President Dr. Kathleen Plinske says, "Before Valencia, there weren't options locally for African American students to go to college." She continues, "The Black Advisory Committee was formed to help get the word out to the Black community that there was an option for students to go to college here in Orlando."  
The committee provides what Valencia needs to continue to grow and diversify. According to Dr. Plinske, "[BAC] raise money for scholarships for our diverse student body at Valencia College and also advise the college and me, as President, in terms of how we can better serve Black students."  
Black Advisory Committee Chair Monica May has worked on the committee for almost ten years. She describes BAC as a necessity here at Valencia College. She is proud to get the word out about the devotion to help African American students saying, "We strive to help students thrive." 
May continues, "One of the things that we do is raise money for scholarships for students in need who are of African American descent. They may have experienced some hardship; be it financial, emotional, or whatever. They can be nominated for these scholarships from their professors. Or now we have a way where they can self-nominate."  
Educating minority students about the committee is one of the essential things on the agenda for BAC. "The committee is at their disposal," said May when discussing what is critical for students to know about BAC. She continued, "Advocates range from student participation up to people who are just concerned citizens… There is a lot of experience on that committee and from that these committee members can help students with their interview skills, help them write their resumes, help them prepare those essays that they may need to go on to UCF, or wherever they choose to go."
The BAC is doing more for Valencia College than helping students. According to May, the BAC will be assisting with the "hiring of minority service vendors, minority administration, faculty, etc. just so that there is equity in the life at Valencia."  
Diversity is the priority and according to the Chair of the BAC, "It's just as important today, if not more, than it was back in the 1970's when the Black Advisory Committee first began. It is important for minorities to have college on their horizon. It is important for them to realize that they can attend… and there is a college in their backyard that is willing to accept them and help them thrive." 
The Black Advisory Committee is currently accepting nominations for the 45th Annual BAC Incentive Awards and the Eula Pearl Jenkins Scholarship until Monday, Feb. 28, 2022. To self-nominate or apply for a scholarship, qualified students are encouraged to visit the Valencia College website and simply search for the Black Advisory Committee or by visiting the Engage site at this link: https://valenciacollege.campuslabs.com/engage/news/247819.