Valencia's Symphonic and Jazz Band Perform Halloween Special, Against All Odds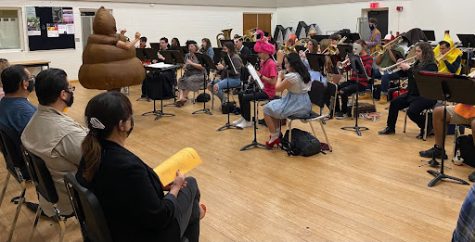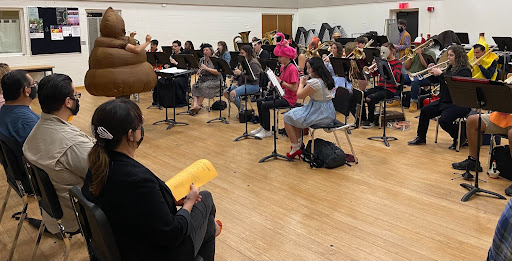 Valencia's Symphonic and Jazz Band hosted a Halloween concert on Oct. 28 at the East Campus, despite inclement weather conditions that forced the outdoor event to relocate into the band room at Bldg. 3.
The concert was a two-part event with the Symphonic Band playing a 30-minute set at 12:30pm and the Jazz Band playing their set at 1:30pm.
The Symphonic Band was directed by Valencia's Director of Bands, Jon Territo, and played a variety of Halloween themed music including "Ghost Run" by Grant Michel, "Abracadabra" by Frank Ticheli, and a variety of Disney classics. The band closed out with "The Anguish of Nosferatu", a tribute to the dark vampire Dracula.
Some of the musicians were dressed in their Halloween costumes as they performed.
Jazz Band Director and Professor Frank Wosar conducted a series of classical music such as "Isn't She Lovely" by Stevie Wonder and "The Flight of the Foo Bird" by Neil Hepti. Students rocked out with separate solos throughout the performance.
Tenor saxophone player and Valencia student W. Jeremy D'Aguiar, pursuing an associate degree in Sound and Production, was one of the soloists for the Jazz band. He's been playing the saxophone for almost seven years, but this is his first year playing with Valencia. D'Aguiar explained how difficult it was to be a student musician virtually. "It was absolutely not great at all," D'Aguiar stated. "I'm not a – I already have a hard time budgeting time. It was not good."
During an intermission, photos were taken, where the students expressed their joy for being back on campus.
The event was free to all students and staff, but the capacity level dropped significantly when weather conditions worsened. This forced the event indoors and only allowed up to 10 people to enjoy the show per COVID-19 social distancing guidelines . Though the audience was smaller than what was expected at the original outdoor venue, student musicians were still excited to be performing in front of a live audience.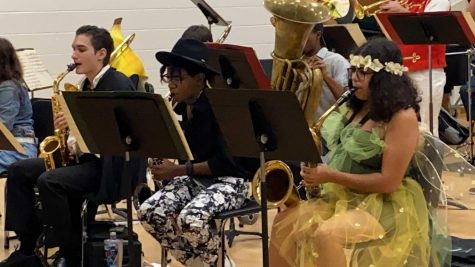 Valencia student and General Studies major, Joseph Bravo, dressed as Disney Junior's Handy Manny, played his trombone for the first time with the Valencia Symphonic Band. He said "I enjoyed it and it was good to be back on the concert scene."  Since he graduated high school two years ago, he has not performed in front of anyone until today. "I had my graduation and all that, then the pandemic hit… this was the first time since then there was a possibility for a concert audience."
Bravo looks forward to performing more with Valencia in the future. Bravo mentioned that "we do have another concert in November" and all students are invited. Bravo has been playing trombone for almost 10 years and has plans to gear his education towards music production.
The atmosphere was welcoming, even at a small capacity. The audience was engaged and jammed along for the first time with the Valencia bands since the pandemic. Cookies were served for everyone's enjoyment. Students are encouraged to follow the bands on Engage for upcoming shows and events.