Valencia College Hosts Conversation with Transgender Actor Zach Barack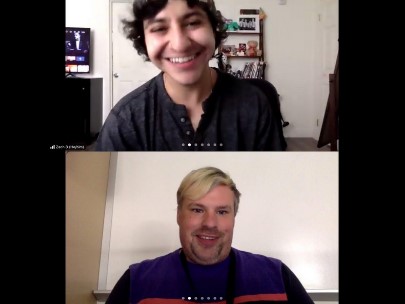 On October 21, Valencia College's Osceola Humanities Department hosted a conversation with Zach Barack, who made history as the first out, transgender actor to play a major role in a Marvel movie: "Spider-Man: Far from Home."
Introduced by Valencia College Professor Chris Mason, Barack began the discussion with his background, where the "Transparent" actor struggled to find himself in the mass of misinformation depicted by the media.
"The crazy thing about the lack of representation was that even before I could come out, I didn't know what I was. So, I knew I had these feelings, but I didn't have a name to put to it. I didn't realize what I missing because if you don't know something exists, then you don't know you fit it, and when I saw things that resonated with me, they were always sad stories, so I had a lot of misconceptions about queer people," said the University of Southern California student.
Barack realized that finding his identity required unpacking the lack of on-screen representation for queer people. Kimberly Peirce's "Boys Don't Cry" was the first film he felt accurately described him.
"It wasn't until I was watching that movie and realized 'Wow, it would be really cool if Hilary Swank was actually a girl-boy, and I want to be that girl-boy, and I want other people to see me as that girl-boy.' Then, I started to realize who I really was," he explained.
Despite discovering his identity through the dramatization, Barack doesn't "want every kid to have to watch a traumatizing movie to find themselves." He hopes to provide a proper media portrayal of LGBT+ people in his newest project "Dead End: Paranormal Park."
"Now, I'm the lead in an animated show, playing a trans character, and I feel really, really happy. Hopefully, it'll make some other kids really really happy, because I would've killed to watch that if I had known it even could exist," he continued.
Further into the conversation, the 25-year-old discussed the parallels between superheroes and queer identities. Barack related to the likes of comic book characters such as Superman and Spiderman in a way of also living a double life.
"Comic books are actually really powerful sources of inspiration because they are a genre of fiction that allows for a lot of interpretation and sub-cuts," said Barack. "When I was really little, I liked Superman because he was born special […] and then, I sort of found Spiderman because he's someone that develops over time."
Stephanie Navarro, 20, heard about the online event through Jon Taylor, a Gay-Straight Alliance advisor at Valencia College. Intrigued to hear Barack's experiences as a transgender actor, Navarro tuned into the Zoom call.
"I felt very excited and happy to see Zach's point of view and hear about his story because we tend to think that actors or famous people are robots and don't have any problems in their life. Being able to hear the actual struggles and life experiences, actually helped me feel a bit more at home," said the nursing major.
To discover future student opportunities, explore the Valencia College events calendar and the Engage portal.