Black Friday in the Middle of a Pandemic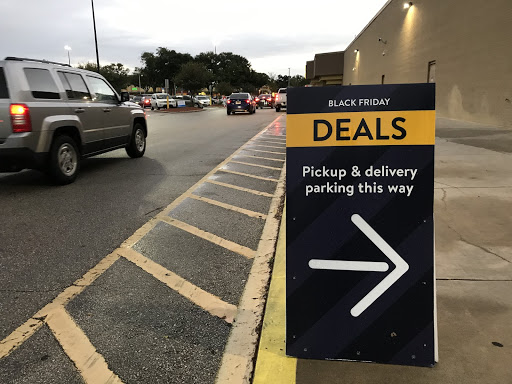 Black Friday is known to be the most hectic shopping day of the year. But now, stores are handling Black Friday shopping differently because of the pandemic.
Stores that are notorious for their Black Friday sales have been doing "Black Friday Now" deals on select days throughout November. Walmart, Target, Macy's, Best Buy, GameStop, and many others will be closed for the holidays. This is to ensure workers can spend time with their families safely. Ads have been released and shoppers are finding a much easier shopping experience. The pandemic hasn't stopped the sales — stores are still proceeding with their annual deals.
Valencia students in need of laptops are going to want to keep an eye on Walmart, Target, and Best Buy laptop and computer deals. A Target associate, Rick Lee, said he's been to other stores and noticed prices are competitive. "I bought my daughter a laptop from Walmart. I felt like such a traitor, but I have a college kid, and I'm working a second part-time job at Target to get by during this pandemic. I had to save every dollar I could".
Electronics are the most purchased items every year and this year isn't any different. Forty-two-year-old Walmart associate Marie Hale says they have a lot of 55 to 65 inch TVs on sale and they are selling fast. Online shoppers can order Black Friday deals at 12:00 a.m. on select dates, while other shoppers are routinely getting up as early as 4 a.m. to catch the deals, just like every year before. "Covid kind of helps this year's Black Friday. It's way more organized and because of the virus, people are respecting other's space and are more patient in line. The sales are still there for the business and it'll always be but now it's almost like it's calmer," Hale said
Home décor has become a hot commodity this year. Given the pandemic, customers have more time on their hands to refurbish or redecorate. Macy's has shown their participation in home décor with online Black Friday sales. A Black Friday filter has been added to the shopper's search bar, making it easy to order online. Pick up in store as well as  curbside pick-up are both offered.
Best Buy has also participated in curbside pick-up to ensure everyone's safety while GameStop has restrictions in most stores — allowing five people in the store at a time. Long-time GameStop manager Eric Santiago said "Since COVID-19 hit, we've only allowed five people at a time. That's not changing because of Black Friday. One thing about Black Friday shoppers, they will wait. They have no choice. You have to wait to get the deal". Customers have expressed there's been a more cheerful staff as opposed to the usual disgruntled, irritated workers.
The virus has provided a new appreciation for service workers. "Even essential workers need a break", another Target associate, Marco Waters said when asked about how this year has been for retail workers. "I am so happy to finally have one year of not waking up at 3 in the morning to be here and ready by 5, only to see people act like ruthless, uh, savages for lack of a better word. People really go mad on Black Friday, but these all-month long deals have been heaven sent. We (workers) needed this."
Black Friday will continue, and it will be here all of November. Essential workers need the time to spend with their families and are thankful of some positive impact coming from the pandemic. Shoppers are getting deals in a less hectic and safer way.