Conor McGregor vs. Donald Cerrone Breakdown and Prediction
UFC 246 hosts the return of "The Notorious" Conor McGregor as he faces off against Donald "Cowboy Cerrone.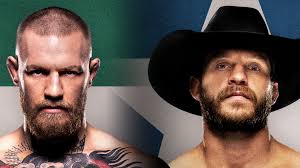 Conor McGregor is back. 
Tonight, we will see the much-anticipated grudge match that has been four years in the making. Will McGregor get one step closer to his inevitable rematch against Khabib or will Donald "Cowboy," Cerrone add another name to his list before he rides off into the sunset?
Let's take a closer look.
Striking
There's no question that striking will not be an issue for either fighter during Saturday's contest, but McGregor has the clear advantage on paper. With 86 percent of his wins coming by knockout, McGregor has stamped himself as one of the greatest knockout artists of all time. Names such as Jose Aldo, Eddie Alvarez, Chad Mendes, and Dustin Poirier have all fallen victim to McGregor's left hand. Cerrone, on the other hand, hasn't had as much success when it comes to taking his opponent's consciousness. He has only knocked out 10 out of his 50 opponents but Cerrone is still 28-0 as a pro kickboxer and has won multiple Muay Thai titles. His heavy hands and devastating head kicks have shown the world that you can't count out the "Cowboy." Unfortunately, McGregor's left hand is too good to sleep on.
Pick: McGregor
Grappling
Beatdowns from Khabib and a rear-naked choke from Stockton's own Nate Diaz has given the MMA community an illusion that McGregor sucks at grappling. Just by digging a little bit deeper you can see that he has defended a solid 70 percent of the takedown attempts against him, but that's the only bright side to his skills on the ground. McGregor has never won by submission and all four of his losses have resulted in a tap out. His counterpart has won over half of his fights by submission. An armbar against Mike Perry started off a three-fight win streak for Cerrone last year. Is "Cowboy," one armbar away from getting on another run? Even if he doesn't we all know Cerrone has the advantage on the ground.
Pick: Cerrone
The Verdict
It's hard to pick against a fighter like Cerrone. From his "fight anyone at any time" attitude to the Kid Rock walkout, Cowboy has always been a fan favorite, but Cowboy's time is almost done. He's on the later side of 36 and he's coming off back to back brutal wars. While Cowboy seems to be fading, McGregor is fresh and looking to make a statement. As much as I want to see Cowboy get the big one before it's all said and done, I don't see too many ways for him to win. McGregor's left hand is too much of an x-factor and the only way Cerrone wins is if he's able to catch him in a submission. Counting Cerrone out in the past has proven to be a mistake, but Saturday night will belong to the Irish.
Winner: McGregor by first round knockout.