Valencia's film department preps students for professional careers
Knowing how popular working in the film industry has become, Valencia College wants to work with students to make their dreams come true. The Valencia Voice spoke to two professors in the film program to discuss the importance of learning film production, the top-notch materials they will use as enrolled students, and how getting real-world experience as a Valencia film student will enhance students' chances to work in the film industry. 
"We have a very diverse student body," Program Chair Eric Fleming said. "Film is such a collaborative medium. There is a place for everyone. Everyone in the crew can be a storyteller."
Fleming is enthusiastic to announce most of his graduates from the program have found employment in their respective fields. 
Valencia hopes to attract more students who already have an interest in film production while appealing to students who are unsure of joining a film program.
"[They] go right into the industry," he said. "They go to Atlanta. Some go to Miami. A few have gone out to Los Angeles. Students work in reality shows. Some work in commercials, which are very strong [in Orlando]. We set them up to make the best decisions. We really understand the industry," Fleming explained. "We invite feature films to shoot with us. As long as we can put students on films, they can get a credit and begin to network." 
With a team of experienced professionals and highly trained film professors, Valencia's film program wears its prestige proudly. Fleming, who earned his MFA from Florida State and has worked as a filmmaker in New York and Los Angeles, selling scripts to Paramount and Fox, certainly knows the industry and takes pride in his film department. 
Each film course at Valencia is critical for students learning the trade. The Film Editing course will apply the techniques to cut and revise while focusing on the video and audio functions during post-production. The Cinematography course highlights the importance of proper lighting used on set and how camera movements can enhance a scene. All classes in the film department utilize modern technologies.
"The gear we have here is unsurpassed," Fleming said. "I've never seen anything like it at a film school. Everyone gets their hands on the gear." 
He is referring to the plethora of brand new cameras Valencia has purchased recently for the film department. Cameras such as the Sony FS7 handheld camcorder, Canons C100 and C300, Red Camera and Arri Alexa, are just a few of the new equipment in the studios. 
Fleming is most proud of the editing software the film department uses. Himself and Paul Mayne, an accomplished cinematographer and Valencia professor, are both certified to teach Avid, an industry-standard in cutting films in both New York and Los Angeles. 
"We now teach Avid, alongside Premiere Pro," Fleming said. "We are giving students a chance to understand the software."
Film Production Coordinator Wilmore Fowler and Facilities Coordinator Kara Guambo provided a tour of the massive $15 million film grounds.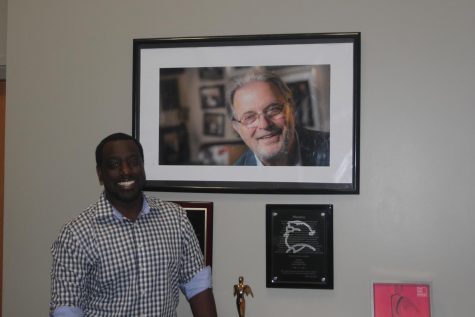 The green screen room allowed "students get their footage with their green screen on the back [drop]," Fowler said. "When they go to the editing process they can actually key out the green in the editing system and put whatever they want behind them." 
The screening theatre, like the rest of the building, is impressive and has state-of-the-art equipment. With its 120 seats, 4K Christie projector, and with over a dozen Dolby speakers hanging from the ceiling, the theatre is unique in its creation.
"We are the only public institution on the East Coast that offer [the equipment] to our students," Guambo said. 
"And we are one of three movie theatres in central Florida that has a Dolby Atmos system," Fowler added.
Graduating from Valencia's film program prepares students to immediately begin work in the film industry. Many students go on to work as sound and lighting technicians, set design assistants, and camera operators. 
"After you complete the degree, you are eligible to start off in the workforce," Fowler said. "We teach a lot of the technical positions you will see in the movie credits. You can start off as an entry-level position once you graduate from the program."
"You are getting real-world experience in a professional setting," Fleming said. "[Students] are studying under professionals."
The Film Production Technology program is a 64-credit course for its Associate in Science degree. The program also offers a 24-credit certificate in Film Production Fundamentals and a 17-credit certificate in Entertainment-Stage Technology.