Valencia College campuses will close due to Hurricane Dorian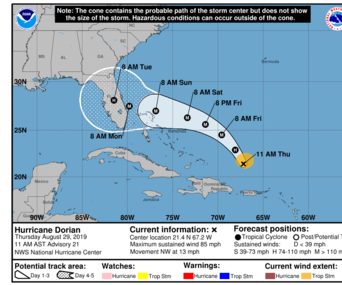 All Valencia College campuses will be closed from 5 p.m. on Friday, Aug 30 through Tuesday, Sept 3 in anticipation of Hurricane Dorian's landfall, the college announced in a press release today.
"College officials are closely monitoring the storm's path," the statement said. "At this time, Valencia officials anticipate that the college will reopen on Wednesday, Sept 4."
The press release went on to encourage students who live at Downtown Campus' UnionWest to move to a safe location no later than noon on Sunday, Sept. 1.
The hurricane could make its landfall in Florida as early as Saturday night, and is expected to become a Category Four storm.
This is a developing story.