How Does Valencia Security Ensure Student Safety?
In an era where school security is on everybody's minds, Valencia College's campus security team protects students with initiatives such as a mobile app, partnerships with local and federal law enforcement, surveillance technology, and other educational efforts key to maintaining a safe campus.
With a growing student body, Valencia's security team is taking strides to keep up with the college's expansion. The college has adopted a technology-based and service-driven security policy best represented by its new safety app.

The free Valencia Safe mobile app was released in 2017 and provides useful tools such as campus maps, virtual escorts, emergency contacts, preparedness plans, and a college-wide alert system. The campaign surrounding the app's release has resulted in about 30% of students downloading and using the app, according to Assistant Director of Security for East Campus Rob Pigman, who hopes to increase this percentage of users in the near future.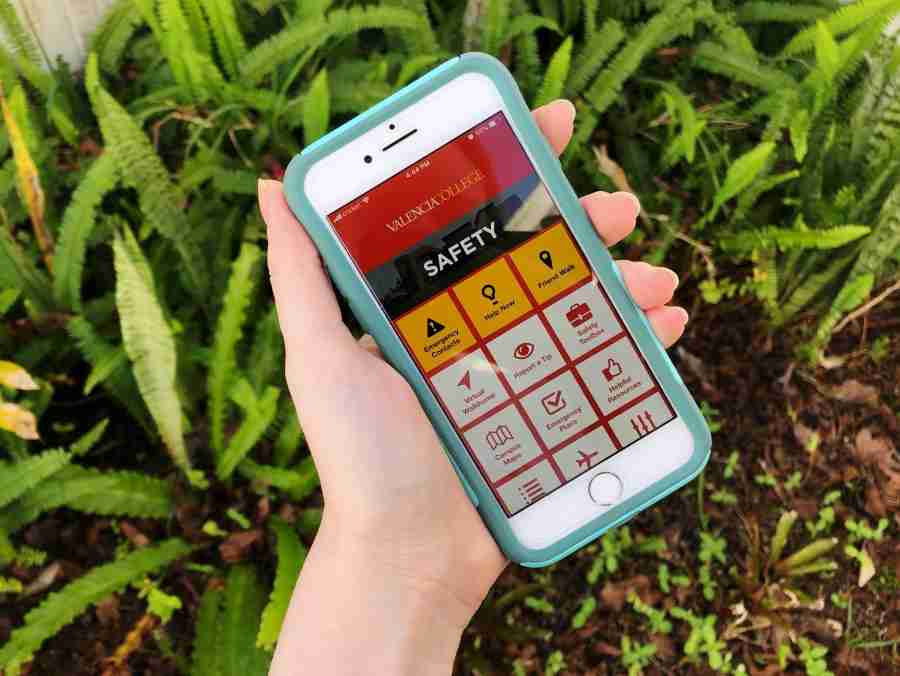 The app is designed to provide all necessary safety information instant help with only a few taps. Users can send their location to a friend or the security team to monitor as they travel to their destination on campus. They can also request help with a single tap, report a tip, or they can call campus security, 911, and other emergency numbers. Designed to be a modern version of the traditional blue light telephone stations found in Valencia College parking lots, the app embodies the security team's commitment to creating a technology-based strategy with the primary goal of customer service.

Valencia College also emphasizes communication in its security strategy, said Mike Favorit, the Managing Director of Security. "In the 31 years that I've been in the business as far as security and safety, most things get blamed on communication issues, statistically," said Favorit. "So, if we increase working on communication toward the end users, we've found that to be better."

One way that Valencia communicates with students, faculty, and staff is through warnings issued via phone, text and the Valencia Safe app. These notices range from convenient notifications about traffic to emergency alerts about imminent threats. According to Valencia College's Safety and Security webpage, these notifications are provided "in compliance with the Clery Act," which requires the college to provide "timely warnings" in order to "communicate prevention strategies or basic safety information about reported crimes or activities that are considered a threat or are in the public interest."

Valencia College also partners with local police departments to keep extra-duty officers on campus while the college is open. Mr. Favorit says that Valencia often collaborates with the Florida Department of Law Enforcement, the Federal Bureau of Investigation, and Central Florida Exchange.

The purpose of this is to gather and disperse information efficiently by "working with our partners within the community." Valencia's Office of Safety and Security believes the best way to maintain a safe and positive environment on campus is to get everybody involved in working toward that goal.

Service is a significant function of Valencia's security team. Students can request an escort to their vehicle either from an on-campus officer or virtually through the Valencia Safe app. Security is also available to help jump a dead car battery or attempt to unlock a car if the driver is locked out.

Parking passes and traffic control in parking lots are other ways in which Valencia monitors campus safety. Blue lights on poles signify emergency call boxes where telephones can immediately connect someone with a security officer. The mobile app was designed to be the digital equivalent of these call boxes. According to Pigman, customer service is always a priority. "It doesn't matter whether you need directions, or you need some additional help with any type of other situation. We can help."

As the college expands, ensuring student safety across every campus has become more vital. Amanda To, a student who frequents Osceola Campus, says that simply knowing security officers are "here for our protection" gives her the greatest peace of mind out of all the services Valencia's security team offers. She hopes the college can continue down the path it is on to improve their security measures so that she can focus on her education without worry "that something unpredictable could happen."

Valencia College's security team is working hard to ensure that in the future, that will never be a question a student should have to answer. By adopting proactive, technology and communication-driven strategies, Valencia's security team strives to make each campus a safe and positive environment for everyone who visits.