Penn State, Kentucky to meet in Citrus Bowl
In a contrast of pre-season expectations, the #14 Kentucky Wildcats and #12 Penn State Nittany Lions will meet at the 2018 VRBO Citrus Bowl held at Camping World Stadium in Orlando.
Penn State (9-3) enters the game after beginning the season with playoff expectations, but conference losses to Ohio State, Michigan State, and Michigan diminished their postseason prospects.
"We were hoping for a New Year's Six [bowl]," said Andrew Carline, a Philadelphia native and Penn State fan who flew in for the game. "But this isn't a let-down of a season or anything, we're just hoping for a win."
The Citrus Bowl is not as marquee a game as the New Years Six bowl games, which alternate every year as playoff games, but is nonetheless a prestigious game to play – and the University of Kentucky (9-3) and its fans couldn't be more excited.
The Kentucky football has spent much of the past decade as a punching bag for the SEC East, posting five straight losing seasons until 2016 – when coach Mark Stoops seemed to turn things around in his fourth season with a bowl appearance.
In their second game of 2018, Kentucky beat the University of Florida in the Swamp for their first win over the Gators since 1986. The Wildcats had a legitimate shot to play in the SEC Championship game before a loss to Georgia – in which Kentucky was ranked 11th in the nation, their highest since 2007. A win against Penn State would be a huge step for the program in establishing relevancy in the SEC.
"It sure would be something to win today, but just being here is a win for the program," said James Willoughby, a Kentucky alumni residing in Pensacola, Florida. "We just upgraded the stadium, we're doing well recruiting, and pretty soon we'll be competing for the SEC East and the SEC."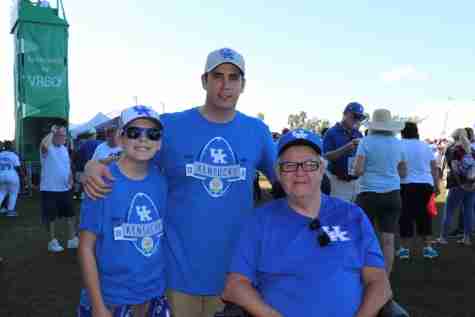 This will also be the final game for Nittany Lions quarterback Trace McSorely – who has led Penn State to a Big Ten Championship and a win in the Fiesta Bowl. He will graduate as Penn State's all-time leader in passing yards and passing touchdowns.
Kentucky running back Benny Snell ranks 2nd in the SEC in rushing yards with 1,305 and touchdowns with 14 – their key to winning is a big game from him. Another Kentucky player to keep an eye on is edge rusher Josh Allen, who is currently a favorite to go in the top five of the 2019 NFL Draft.
The 2018 VRBO Citrus Bowl is scheduled to kickoff at 1:07 pm EST and can be watched on ABC.