Orlando hosts the 2018 Cure Bowl
The second bowl game of the 2018 College Football season, the AutoNation Cure Bowl, will take place at Camping World Stadium on Saturday afternoon in a matchup between the Tulane Green Wave and the Louisiana Ragin' Cajuns.
The name "Cure Bowl" stems from the game's effort to bring awareness to research into breast cancer, with a portion of the proceeds from the game going to the Breast Cancer Research Foundation (BCRF).
Dr. Annette Khaled from the UCF College of Medicine received $1.1 million in funds raised the last three iterations of the Cure Bowl from the BCRF.
"What we are doing is open to anybody who wants to hear about it," said Khaled at a Thursday press conference. "And having visibility through the Cure Bowl to do that has been a real privilege."
Khaled went on to say that a lot of what she's able to do at UCF is due to BCRF funding from the Cure Bowl.
This will be the 29th meeting between in-state opponents Tulane (6-6) and Louisiana (7-6).
This is the Ragin' Cajuns first bowl game since 2016, coming off a successful first season for coach Billy Napier – finishing runner-up in the Sun Belt conference after winning the West Division.
Louisiana also boasts a potent rushing attack, with Trey Ragans, Elijah Mitchell, and Raymond Calais combining for 2,813 yards and 26 touchdowns from the backfield.
"I think the first thing that stands out about these guys is the fact that we have zero jealousy or selfishness," said coach Napier of his running backs. "We have been fortunate to take care of all of these guys and certainly they are all unique."
On the other side, Tulane (6-6) won four of their final five games to become bowl eligible for the first time since 2013 – where they lost the New Orleans Bowl to Louisiana.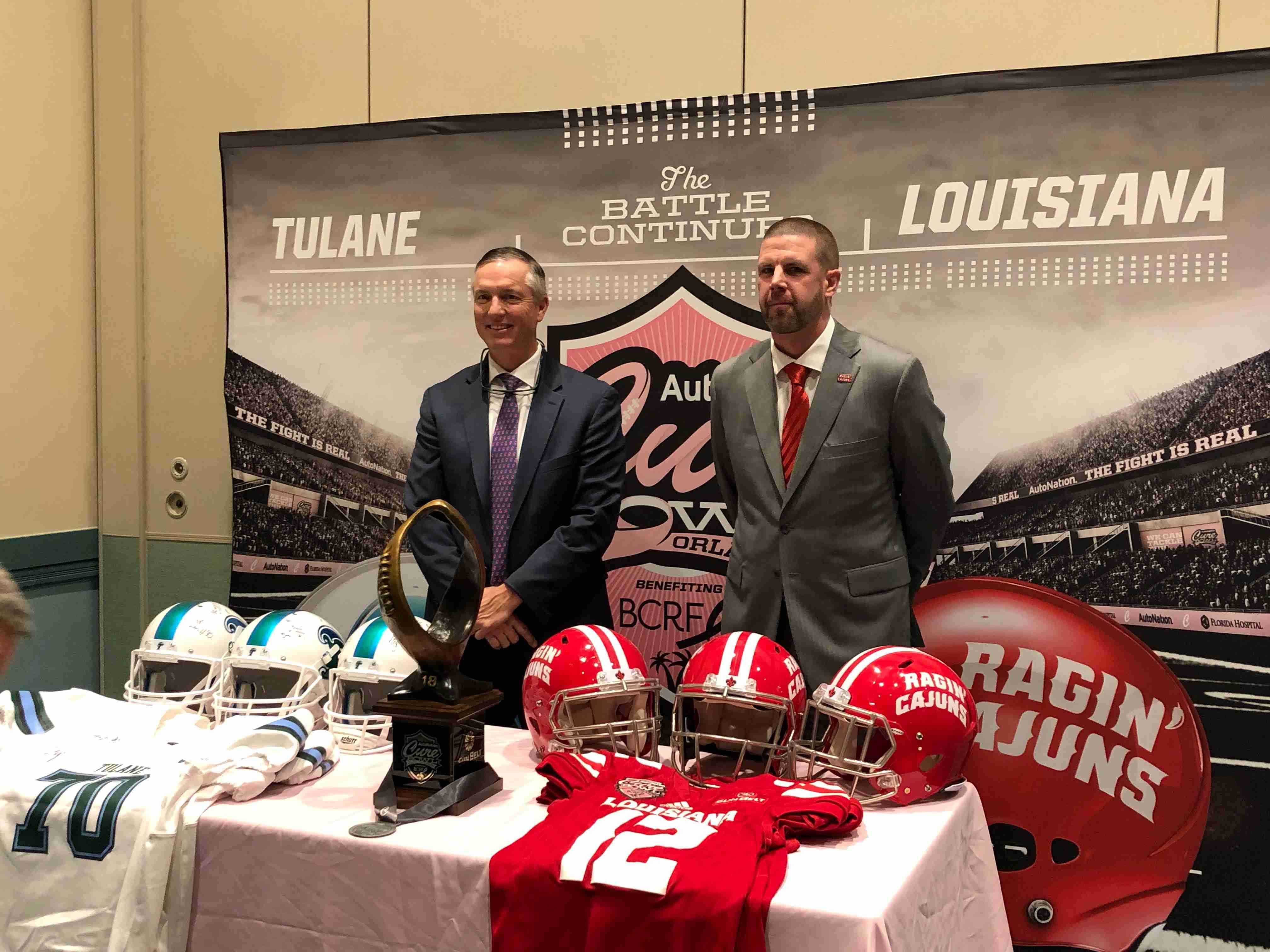 Their offense has averaged 208.2 yards rushing a game and the team is 4-1 since Justin McMillian was promoted to starting quarterback. Defensive End Patrick Johnson's ten sacks put him at second in the American Conference.
"We had a goal from the beginning to make a bowl game and to go win a bowl game," said John Leglue, a Tulane offensive tackle. "Just being able to achieve that goal and then also support cancer research is huge."
Leglue and Louisiana linebacker Alonzo Brown were named the Cure Bowl Community Service Soldiers for the volunteer work they do in their communities. Each received their award at Thursday's press conference from Cure Bowl Executive Director Alan Gooch.
The teams took time on Thursday afternoon to explore the Universal theme parks.
Kickoff is scheduled for 1:37 pm on Saturday. The parking lot will open at 9 am and the tailgate is scheduled to begin at 11 am. At noon, Andy Grammer will perform at Tinker Field, adjacent to Camping World Stadium, for an hour-long concert that is free to ticket-holders.
The Cure Bowl will be broadcast on the CBS Sports Network and can be listened to locally on 96.9 FM.