The Passing of Hurricane Maria: A year after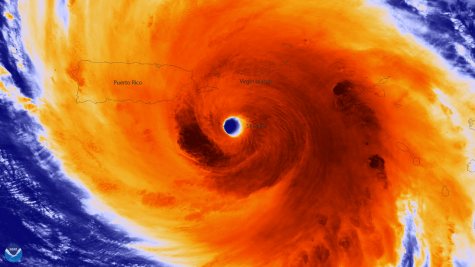 Hurricane Maria made its way to Puerto Rico on Sept. 20, 2017. A year later, it was concluded by the Center of Puerto Rican Studies that over 198,000 people emigrated from the island after the storm's impact.
19-year-old education major Rosana Diaz reflected on how the hurricane impacted her life, "Well, imagine, this last year was my first Christmas ever being separated from my family after I was forced to move. Usually, it's rice with pigeon peas and a party. This time, it was my mom and I in the living room watching TV, while the rest of my family was back in Puerto Rico. It was super depressing."
The National Oceanic and Atmospheric Administration declared that hurricane damages spiked up to $90 billion, making it the third costliest hurricane in the United States. Damages included flooded areas, home with no roofs, and 95% of people in the island with no electricity, and lack of resources. To this, 19-year-old business major Jorge Aviles said, "I think the aftermath reflected on how unprepared both the government and many Puerto Ricans were towards the catastrophe."
20-year-old sound production student Kenneth J. Roldan shared his experience of the power outage, "I remember being at work here in the Atlas lab, and not being able to call my loved ones because there was no signal. I didn't talk to some of my friends after months."
Despite all the destruction still being faced, many welcome the one year anniversary with hope.
When asked about the positive impacts, 21-year-old computer science major Rodolfo Puig Diez replied, "Because they had to move in with my parents, and I get to spend more time with my grandparents."
19-year-old biomedical major Carlos Colberg reflected on his new life in Orlando, "I still feel sad because the hurricane had a very heavy toll on Puerto Rican life, but at the same time, I feel blessed. It's had a positive impact on my studies, my ambitions, connections with new people and my future."
"If there's anything that the hurricane taught me, it's to be ready for the next one," smiled 22-year-old game design major Randy Velez. "My tips are one, find a safe place; two, buy lots of water; three, seek for help; four, provide with help."