Valencia Poll: Eminem vs. MGK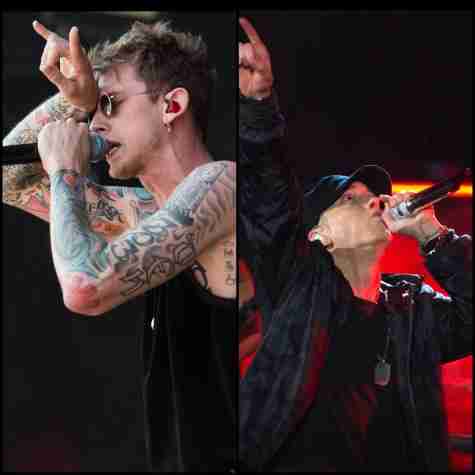 American rapper Machine Gun Kelly released track "Rap Devil" on Sept. 8, 2018 as a jab towards Eminem's "Rap God". The track is a response to the beef he's been having with Eminem and his new album, Kamikaze, released on Aug. 31, 2018. The beef first began six years ago when Machine Gun Kelly made a comment about Eminem's daughter, Hailie Scott. Not long after, MGK released a diss track directed toward Eminem. Eminem was just minding his own business until he caught wind that MGK talked about his daughter and later began dissing him on Tech N9ne's track, "No Reason."
Valencia Voice went around campus to see what students had to say about this rapper beef:
"It's not real," Music performance major Vicente said. "It's just a means of publicity just to get money. That's what Drake and Meek Mill did. You got to think about that." When asked who he thinks would win, Vicente responded, "We both know who the OG is, so I know one-hundred percent, Eminem would. It's just like, logically speaking. This man has been in the game for [freaking] years." "MGK, he spit better bars," 29-year-old psychology major Logan Irizarry said. When asked if he believed Eminem would make a response track to the most recent diss, Irizarry stated, "Not after that weak comeback."
"Even though Eminem has more everything, he's too whiny sometimes. In this case, MGK wins." 19-year-old graphic design major Jose Nieves said. "Believe it or not, there are fans of either rapper who don't know about the beef. "I don't really listen to MGK," music performance major Sczenio said. "No, I don't know about it and I don't care either," Rashad, 22-year-old music performance major said.
As reported by Samantha Schnerr from E! News, Eminem sat down with Sway Calloway in a recent interview and spoke upon the issue, " . . . as irrelevant as people say I am in hip hop, I make them bigger by getting into this thing, where I'm like, I want to destroy him, but I also don't want to make him bigger because now you're a [expletive] enemy. I'll leave it at that."
Now, we await MGK's next response, if there will be one.
Elizabeth Masibay, Jessica Silva, and Manuel Chimoy contributed to this story