Interning Abroad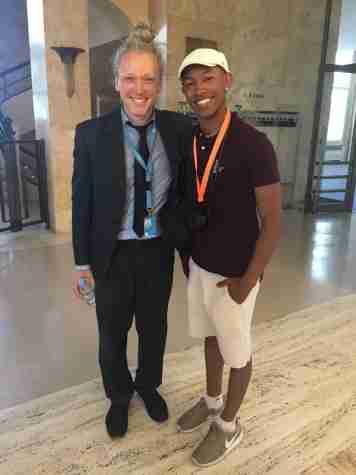 Interning for a study abroad course is a great way to experience a different country while also boosting your resume. Interested in politics or Europe, but already taken the course attached to the trip? You still can experience in person European institutions and excursions.
I was the third person in charge if something happened to the two professors. My responsibility now was to actively engage the students in relevant discussion throughout the trip and incite useful questions at the various government organizations. This marked the first time the course or Valencia had visited the United Nations headquarters in Geneva, which was exciting for the entire class as Switzerland is not a common trip destination. As the students of the course had assignments following the various trips to the organization headquarters, I would be available for assistance with any questions.
Once the trip date had arrived, the entire class was off to France, and Switzerland. The day would be structured by visiting political organizations in the morning such as the French Parliament, Council of Europe, European Union and then around 1pm-2pm, we would partake in excursions.
For my interning experience, I had a separate internship with a politician that I linked to the International Relations course. This specific abroad course focuses on European international organizations much more than the standard IR course. The course is organized different than the standard college course. Each study abroad course meets only six times during the semester prior to the trip. The first-half or quarter of the class would be logistics regarding travel, and the second portion would be the curriculum. I would present a PowerPoint of the relevant lecture of the day. Some presentations I lectured on included Globalization, Cultures and Terrorism.
Personally, I found this way of learning more useful and, in the end, gratifying. The pressure of having to know the material well enough to recite and teach it to others was an efficient way to enhance my understanding as well as my stage presence.
This would be the same for other abroad courses. For example, if a Greek and Roman Humanities course were traveling to Greece, the course would focus much more on Greek development and vice versa, as it is more relevant.
Being in a student leadership position, it was crucial for me to familiarize myself with the different organizations we visited. In the case students weren't engaged, I would compensate by participating on the behalf of the class. I would also answer questions the students might have beforehand or after.
Overall, studying abroad, within itself, is an incredible experience for anyone. It provides a safe way to explore a different country, while also remaining relevant to your education; however, interning abroad is especially great. It is a growing experience that allows you to take charge as a student leader. The position that will help you master the content of the course, awareness of the world, as well as expand your confidence.
Interested in study abroad opportunities? Visit: valenciacollege.edu/international/studyabroad