West Campus Hosts the Fifth Annual International Debate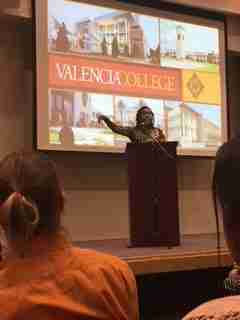 Valencia's West Campus held its fifth annual International Debate on the impeachment of Donald Trump on February 20. The event featured debate teams from Rollins College and Jade Association for Faith and Government of Jamaica. The debate team from Jamaica proposed the motion to impeach President Trump. Rollins College opposed the motion. 
The Jamaican team's Akila Maran stated the argument for why impeachment is necessary, citing the Russia investigation and the apparent obstruction of justice.
"President Trump fired James Comey at an integral part in the investigation," Maran stated.
Maran discussed several of Trump's controversial policies, such as the flight restrictions on several Middle Eastern countries.
"President Trump created a travel-ban that affected a lot of nations that we can basically conclude that it was because of their religion," Maran stated.
Rollins College was opposing the motion for the impeachment of President Trump. James Payne argued why impeachment would be unjust.
"It is not a question of politics. It's not a question of policy. It's a question on whether Donald Trump has violated the law. We can see in the 14th amendment in the Constitution it guarantees everyone equal application under the law in line with due process," Payne stated.
In the end, the team from Jamaica won the debate. The majority audience members voted in favor of impeaching President Trump.
Audience member and student Farrah Bogn shared her opinion on the debate.
"I was very impressed. Towards the end, the opposition really swayed me towards their side because of how they kept pulling quotes from the constitution and how they kept repeating themselves to drill their point," Bogn said
Akila Maran and Rashaneen Kinok were both on the winning team. They shared several strategies to win a debate.
"You need a good partner, you need to have someone that once you give them the gist of an idea they can run with it," Maran stated.
"Definitely reading, a lot of people are afraid of reading but what reading does is opens you up to so much different content that you can use to support your arguments," Kinok stated.
James Payne, who was on the Rollins College team, shared his thoughts on whether some debates are preset due to bias.
"The idea of debate is to take that out and to make sure people use their logic, their reason, their critical thinking to understand the point of an argument and to grow as people and to understand different positions," Payne stated.