Orlando's First Poet Laureate Visits Valencia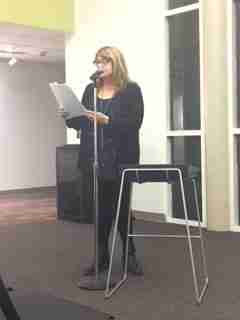 Orlando's first official poet laureate Susan Lilly recited personal poems to an intimate audience at Valencia East Campus Wednesday night. Lilley put on an hour-long poetry reading at 7:00 pm in the Building 3 Atrium where she read nearly a dozen of her poems to a crowd of ten students and faculty.
The themes of the poems varied from adolescent nostalgia, relationships, to death. Lilley didn't appear to hold back on private content. Some considerably personal poems include "Hula Girl", which is inspired by the time she was left for another woman.
Lilley recited several poems about her youth and relationships with her elders, notably in the poem "Necklaces", where Lilley talks of her mother and Grandmother.  Lilley reminisces the strong matriarchal personality attributes of a mother, "They'll do anything for you, but they won't be corrected."
Lilley discussed what inspires her work and how her adolescence impacted her poetry.
"I just think it's the time you're figuring out who you are. The older you get you realize how important those years were. I think poetry is the most beautiful thing in the world.  It's the perfect expression for the emotional life," Lilley said. "Beauty (inspires me). Probably in the place where most people would consider a mess. Somebody's room when they've been in a frenzy. Or a dinner table where everyone just had a wonderful time." Lilley said.
Students raved about Lilley's performance.
"I thought this would be cool to see what inspired her. It was fun, I liked the way she came up with her ideas, and her creative thought process," says Douglas Zultac, a student who attended the event.
"It was really interesting, I'm not the kind of person to do poetry because I think it's a little to personal for me. I think tonight was inspiring," remarked Aliyah Muhammad.
Lilley was named Orlando's first poet laureate on October 19th.