Groundbreaking for Valencia/UCF Downtown Orlando Campus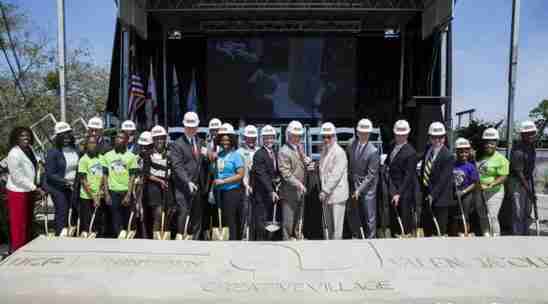 On the beautiful sunny morning of Thursday, May 11, 2017, Valencia and UCF hosted a groundbreaking ceremony for the new Downtown Orlando campus. It will be located in the $1 billion Creative Village Development just a short walk from LYNX Central Station, The Orange County Courthouse and a host of downtown commercial and residential locations. Creative Village will consist of over one million sq. ft. of office/creative space, 3,000 residential/student housing units and 750,000 sq.ft. of educational space.
The UCF & Valencia College Partnership began discussing the project three and a half years ago. Valencia's President Dr. Sandy Shugart informed The Voice, "it's immensely complex putting the systems of two huge institutions together. Figuring out what the community needs is and how we can best partner with them has been challenging." Yet, partners are optimistic that this project will be, "a model campus for cities across America."
The new campus will celebrate its grand opening August 2019 and anticipates by its last phase serving up to 8,000 students. UCF will relocate 14 of its academic programs to the new location. One of which will include the Journalism program. Rick Brunson, an Associate Instructor of Journalism at UCF stated, "It gives me a deep sense of fulfillment. To come down here and teach a new generation of young journalists how to cover this community, and how to cover it well, with honesty and with integrity."
A few highlights of the ceremony include recognition of the $7 million gift from the Dr. Phillips Foundation. The Dr. Phillips Foundation President Ken Robinson calls it, "an investment into the youth in the Parramore District". The City of Orlando Mayor Buddy Dyer along with Theresa Jacobs Mayor of Orange County made special remarks at the celebration as well as a host of partnership and school leadership. Towards the end of the ceremony, Portia Jones a local senior from Jones High School was awarded a $1,000 scholarship for being recognized for her academic efforts and aspiration to become a medical doctor.
Commissioner Regina Hill informed The Voice, "this is the beginning of economic development. I believe education is the greatest equalizer. It does not matter who your parents are or who your grandparents were or what your social economic background you come from. They call this the Creative Village piece but I call this, the piece of hope this community has been waiting for." As Orlando is becoming more recognized as a World-Class City this project is an invitation to a world class opportunity to participate in the "live, work, learn and play lifestyle."