Valencia President Sandy Shugart Discusses Immigration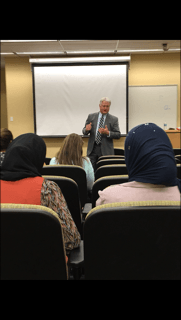 President of Valencia College Dr. Sandy Shugart held an open discussion to discuss the recent policy changes regarding travel and immigration on Tuesday, April 11, on East Campus. Valencia has over 500 international students who could be directly impacted by the changes.
"There has been concern over the recent change in the political climate, and what that might mean for some students and the country. Of course, I can't speak for who's in Washington, but I'd love to visit and hear what their concerns are," Shugart stated.
Shugart briefly elaborated on where it goes wrong most of the time for undocumented individuals.
"I don't think you need to feel a sense of personal threat, unless you're involved in something that is a high risk behavior. If you're involved in committing a crime you're in deep trouble. Because it is very easy to deport people without even having a court hearing. There is no due process for immigrants committing a crime right now," Shugart stated.
Shugart addressed the major issue of the seven countries involved in the travel ban.  He discussed what students who are from there, and still have family there, should do.
Judges in Hawaii, Washington, and Maryland have blocked the president's latest executive order banning travel from the seven countries for 90 days. The travel ban is currently on the back burner in the federal courts.
The organizer of the event Nissa Hopkins Professor of EAP (English for Academic Purpose) spoke on the inspiration for the discussion..
"Certainly with the talk of building a wall, the talk of changes in immigration policy, it has created uncertainties with international students if these travel bans do get solidified and are completely in place it really impacts them," Hopkins stated.
"I just want to know that they have a support system and that the college is open and inclusive and celebrates diversity, and believes in diversity, and believes in that strength and unity, and Dr Shugart was kind enough to come speak to my students to see what answers he can give them," Hopkins said.
"If you are from the seven travel ban countries, I really suggest not going home. Valencia and myself are willing to work with you. Things may change, but many things are in the air," Shugart stated.
"You are not a burden to our society, you are a contributor. I don't think it's a time to be worried. I do think it is a time to be watchful," Shugart stated.
Shugart elaborated on his perspective on the contribution of international students.
"Students contribute just as much as faculty. International Students contribute variety of viewpoints, culture, stories and work ethic. I hope they excite the domestic students about culture," Shugart said.