Valencia East Campus to Offer Free Tax Assistance Saturday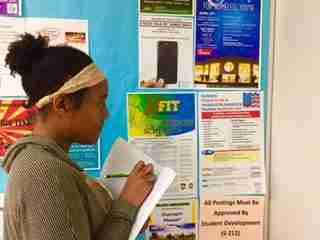 With the tax-filing deadline coming on April 18, Valencia College's East Campus is hosting two more free tax assistance events on April 8 and April 15. The events take place on Building 7, rooms 113 and 117 from 10am to 3pm.
The IRS' Volunteer Income Tax Assistance (VITA) makes these events possible. This program trains volunteers to assist people in the community with their tax return. In order to be eligible for help, you need to make less than $54,000, have a disability and/or have limited English-speaking proficiency.
VITA provides help with rather simple returns including form 1040 and some of its variants like 1040-A, 1040-EZ, 1040-V, and 1040-ES. In addition, they'll also help you prepare forms 2441, 8863, and 8812.
While volunteers can fully help you with the forms mentioned above, more complicated returns are outside of their capabilities. However, they may be able to offer limited assistance.
Linda Fuentes, a certified VITA volunteer, uses her own experience with filing taxes to help her community.
"Some of the forms that are listed on the 'will not prepare' list I have actually seen relatives complete," Fuentes said. "While I'm not authorized to prepare those forms, I do my best to help people understand what those forms are asking. For certain returns, a paid preparer is the best solution for people."
For people like Karina Villanueva, the assistance from volunteers like Linda makes all the difference.
"To be honest, I found out about this program two weeks ago," Villanueva said. "This was my first time doing taxes and those forms scare me. Also, since my English is not very good, it's wonderful to have these people help me for free."
Even for people with more experience filing taxes, like Alex Ramsey, the opportunity to use VITA's assistance is not one they want to miss.
"I have been using VITA to file my taxes for the past five years, whether here at Valencia or in other sites," Ramsey said. "It's such a quick and easy process that I don't mind making the trip once a year."
In order to make the process go smoothly, the IRS provides a "what to bring" list on its website, including, but not limited to photo ID, social security cards, form W-2, among other documents.
Despite the proximity of the deadline and the fact that the spring semester is also drawing to an end, students like Scott Baumann find this to be an accessible way to get it done right.
"Most of us students leave these obligations to the last minute, so it's good to know there's help for us right here on our campus," Baumann said. "I just bring my documents, answer questions along the way, and the volunteer files it electronically. I'm definitely coming back and telling my friends. Free is always good for students."
Valencia's East campus isn't the only site nearby that offers the VITA program. For all the locations near you, visit the IRS' handy locator tool.