Orlando remembers 9/11
By Brittany Rose
[email protected]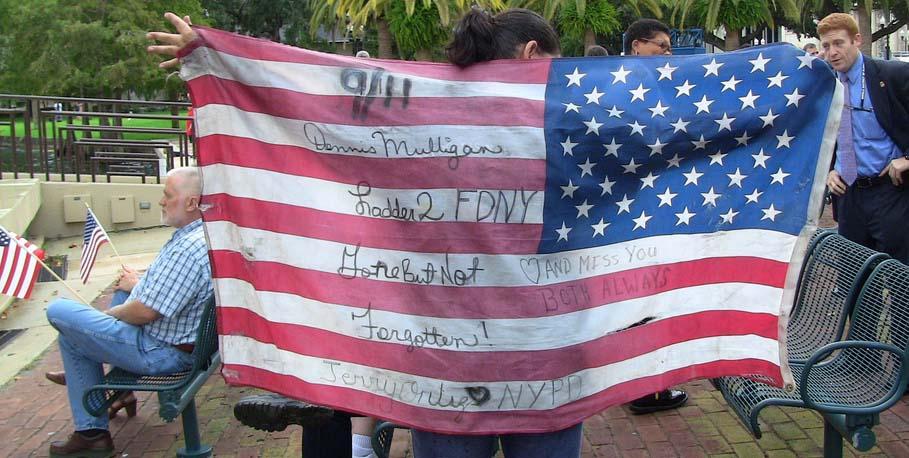 A ceremony honoring the 10 year anniversary and the victims of the attacks on Sept. 11, 2001 was held at Lake Eola on Sunday. Orlando Mayer Buddy Dyer, along with Police Chief Paul Rooney and Fire Chief John Miller, spoke at the memorial about the importance of uniting as a country.
"Today we gather to remember," said Dyer before launching into a short summary of the tragic events that occurred on the morning of Sept. 11, 2011. "And America would not be broken. We have become a stronger country and community."
As an illustration of that unity, four candles were lit to outline police, firefighters, military and citizens.
"It's an honor to be asked to come and represent our United States military," said Colonel James Craig of the U.S. Army, who was there to light the military candle. "I'm from Orlando, and it's great to be here."
Rooney called attention to the fact that there were many heroes on Sept. 11, and not all of them were police officers or firefighters. "There were heroes made, from not only first responders, but by civilians," he said.
Rooney told the story of Welles Crowther, a Boston College graduate with a "signature" red bandanna his father had given him and a dream of being a New York Firefighter. He later became known as "the man in the red bandanna" after several people who were saved from the south tower said that a man with a red bandanna came out of nowhere to direct them to the stairs.
Rooney said that he was proud of the many UCF students who wore a red bandanna at the football game against Boston College on Saturday as a way to honor a man that wasn't even one of their own.
Miller spoke of the bravery of the FDNY fighters who responded to the attacks on the Twin Towers. "We were shocked by the attacks that morning," he said. "We were shocked by a lot of things. The one thing we were not shocked by was the bravery of the FDNY."
Several people raised their hands when Miller asked the crowd who had either been in New York City on the morning of Sept.11, 2011 or had lost someone dear to them in the attacks. One of them was Angelina Leone from Bronx, New York. She knew Dennis Mulligan, a Firefighter of Ladder 2 who died in the Twin Towers.
Nearly 3,000 flags were placed on a grass hill near the Lake Eola amphitheater representing each life lost during the attacks. Each flag had the name of a Sept. 11 victim attached to it, and people were encouraged to take one or more of the flags, and either pray for or write to the family members to let them know that they were remembered at a ceremony in Orlando.
Venus Smith, who was holding ten of the small flags, said that she felt personally compelled to serve the United States after the 9/11 attacks. "I came here today to ask 'why me?' I'm still left and what's my purpose?" said Smith, who was an environmental engineering major at UCF at the time of the attacks. "And then I knew that I wanted to serve."
Just as important as honoring the dead is to remember the living, Miller said. "Please don't forget the men and women who serve this country every day."