Valencia Voice reviews Vespr Coffeebar
If you find yourself sipping a Cold Brew Nitro or marveling over a Vanilla Bean Latte, you might have just wandered into Vespr Coffeebar.
On Alafaya Trail, in the Waterford Lakes area, sits the local shop where coffee lovers, college students, and self-labeled 'hipsters' reside. From 8 a.m. to 11 p.m. seven days a week, the coffee bar opens its doors to the caffeine-needing public.
The menu holds a variety of craft drinks, from classic cappuccinos to creative concoctions such as the Coconut Balm latte.
"My favorite trademark is the Knight Tiki, [which is] a tropical tiki drink that is caffeinated with a natural Ethiopian coffee we make into cold brew (equivalent to three shots of espresso)," said Michael Clevenger, a Valencia student and one of Vespr's seven baristas. "Although, the drink that I drink the most are our single origin coffees."
Abby Prickett / Valencia Voice
A Vespr regular and Valencia student, Tyler Andreala, orders a classic staple most times he's there.
"I generally get Cortados," Andreala said. "I think they're a great blend of being able to taste the espresso in an espresso based drink while still having some milk in it."
Using techniques from the craft cocktail and craft beer world, Vespr puts the coffee bean to the test by implementing these quality methods. It seems to be a hit judging from the filled tables of satisfied customers.
For those who shy away from coffee, they offer a variety of herbal tea blends and desserts such as their notorious "brookie."
Vespr not only caters to the taste buds, but to the eye as well. The coffee bar sets a minimalistic tone with its wooden tables, grey walls, and black undertones. Alternative music plays low in the background and local fliers and announcements pepper the bulletin.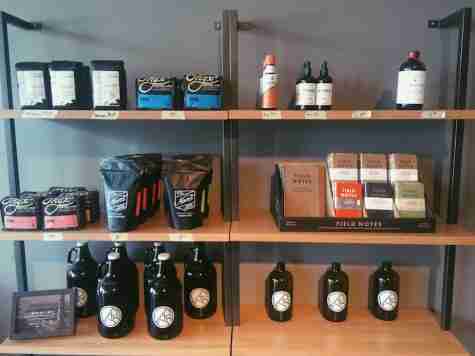 Abby Prickett / Valencia Voice
Field Notes notebooks and "growlers" filled with Vespr's cold brew or loose leaf iced tea are a few of the extras selling on their shelves. Also for sale are coffee bags from locally run companies around the States such as Novel Coffee Roasters, Onyx Coffee Lab, and Panther Coffee.
Laptops and textbooks make an appearance at every table, as most students, from both Valencia and UCF, find Vespr to be their haven. Free Wi-Fi and an atmosphere of community add to the draw.
This said atmosphere of community plays an essential role at the shop; people are encouraged to share tables if seating is limited and board games are offered in the back.
"Vespr is definitely a place of community," Andreala states. "I'm great friends with most of the other regulars, and we often do things outside of the shop. Same with the baristas and I."
"[Vespr is] a space to meet other people and offers a unique experience as opposed to a somewhat bland cookie-cutter experience," says Clevenger, "…Whenever I travel to other cities, one of my first stops is looking for the specialty coffee shop because often it's the height of creativity and culture within that community."
This coffee bar is only five miles, about a 15-minute drive, from Valencia's East Campus. Bring your homework and settle down with a cold brew as Vespr won't disappoint.
Leave a Comment