Students Jump Into New Year
By Marianella Zapata Noriega
[email protected]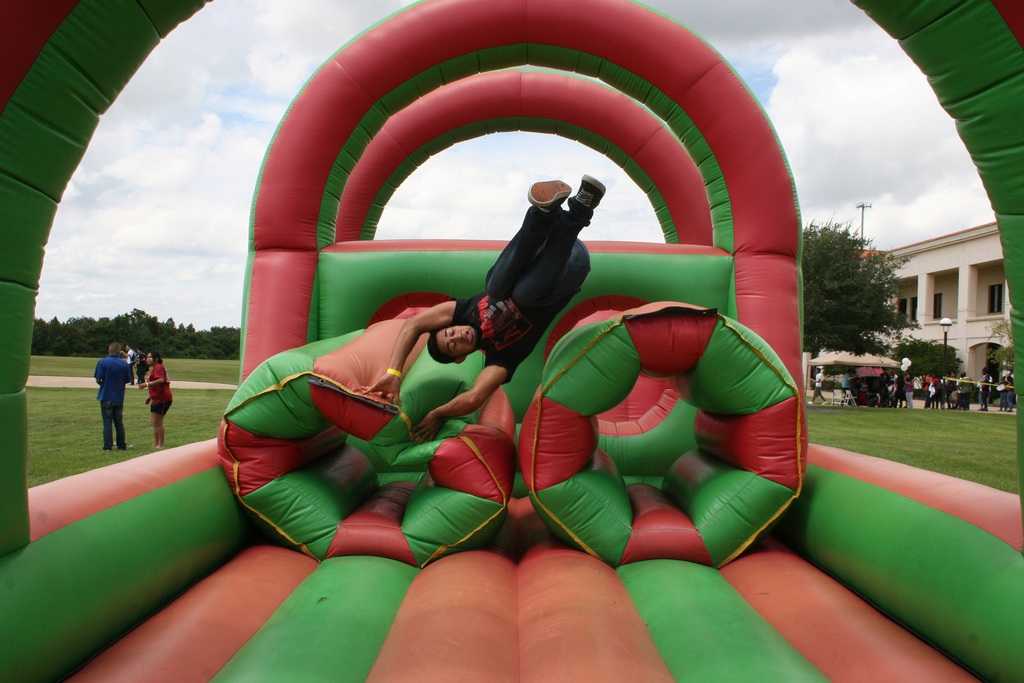 The "SGA Kickback" at Valencia's Osceola campus got off to a slow start, but DJ Cheyanne, a Valencia student, got the party jumping by playing hits, ranging from "Mr. Saxobeat" to "Stereo Love" that soon had students coming in and joining the festivities.
Students played in the bouncy boxing ring and inflatable obstacle course and basketball hoops. There were also healthy food choices and a choice of a 'Passion Orange Guava' or 'Wild Berry' smoothie. These all made certain that one of the year's biggest events at Osceola Campus would live up to its reputation.
It's not all about fun and games, however. "It's about getting the Valencia community involved," said biology major and SGA president, David Rosario Jr., "and to learn about different opportunities, like Campus Crusaders for Christ and Peer Educators."
Osceola County's Supervisor of Elections, Mary Jane Arrington, also looked at the event as an opportunity to reach out to the students with a clear goal: "To register students to vote and, if they are registered, to make sure all the information we have is correct."
Another table designed to catch every student's attention was the Financial Ambassador table. This is for information about the Valencia debit card, which all students began to receive last spring. "We want to make sure students know their refund is coming up soon and to not throw away the debit card, they will get their refund through it," said financial ambassador and sociology major Crystal Almanzar.
The Campus Crusaders for Christ were also ready with a clear goal to promote the club sponsored movie, "Blink The Door II". "'Blink The Door' is a theatrical production that fuses cutting edge technology and multimedia as its source to be able to reach the masses," said Valencia Alumnus Juan Auffant. "'Blink The Door' is based on the lives of true story individuals that face situations that will confront them to the point of realizing life can change all in the blink of an eye."