Orlando City wins USL championship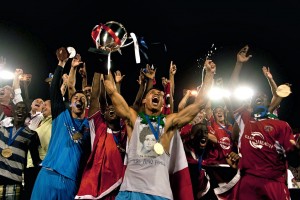 By:Rofkens Petit-Homme
[email protected]
USL Pro Champs, first time out.
Orlando fans have something to brag about; a United Soccer League Professional Championship. Yes, The Orlando City Lions have won the post season glory in style that is sustainable to their skills.
After scoring a brilliant free kick in the second half of a 15 minute extended quarter, the score was 2-2, thrusting the Lions and their opponents the Harrisburg city Islanders into penalty kicks.
Two saves and a wide left shot by Harrisburg placed back-up GK Sean Kelley into the MVP slot for the game. The lions won the PK- shootout 3-2 to become official champs with the last goal scored by forward Devon Jorsling.
11,000 plus fans packed the Citrus Bowl to watch back-up goalie Kelley step up to the plate and deliver the final blows to the opposition.
"Really everything on the table to night and the crowd came through with a lot of good support," said Kelley, after the game.  Kelley was placed in the game in the 50th minute to replace forward Max Griffin due to the ejected goal keeper and team captain, Miguel Gallardo.
Even with the headache of an ejection, the Lions still did not want to bow their heads to defeat. They even seemed to move the ball quicker on the pitch rather than fall back to defense with the teams being uneven, 10-11
"I told him to be big and we needed him and he was going to do great." Gallardo said, referring to Kelley. "I was nervous sitting on the sidelines, I never thought that time would go by so slow. But now I know how the fans feel."
The score was still 0-0 until the 89th minute, when midfielder Lewis Neal assisted a brilliant goal to defender Lawrence Olum. It was a significant part of the defense that kept the Lions in the game.
"We don't  let anyone dictate the way we play," said defender Rob Valentino whose skills matched his intensity Saturday night.
The game eventually got out of hand during an alleged missed call that had Olum on his face right in front of the goal, fans began throwing empty and full bottles of water directly on to the 'pitch.'
"I am excited because these guys have worked hard for what they have done today," said Heath, drenched in champagne and with a big smile on his face. "I was confident that we were going to win this game all the way through, plus we played the best football we've played when we went down to ten men."
The Orlando City Lions hoisted their first post-season trophy up into the air and embraced the thrill of success. Moving from Houston to Texas and then to Orlando, the team has obtained the USL Pro League title in their first year in the city.
"That was just a great example for the game," said team owner Phil Rawlins. "I hope the whole of North America watched it and realized what a market this can be and what a great team we have, a great organization and the dedicated fans in the stands as well."
When asked if he was thinking about next season, Rawlins said, "I am thinking about getting drunk."