UCF wins big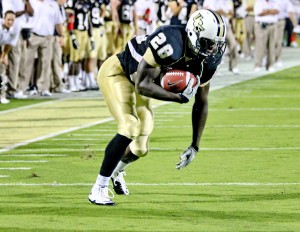 By Bryan Levine
[email protected]
off a season where they won not only the Conference-USA championship, but the Liberty Bowl, the University of Central Florida Knights trampled the Charleston Southern Buccaneers 62-0 in the season's opener.
Sophomore QB Jeff Godfrey seemed to be in mid-season form, as he rushed for 46 yards and three touchdowns, all in the first half. Godfrey also threw 96 of his 100 yards in the first half, sitting out most of the second.
"(Godfrey) commanded the offense, (displayed great) leadership and he was able to lead his team to victory," said UCF Athletic Director Keith Tribble.
UCF set a school single-game record with eight rushing touchdowns. The only score for the Knights that wasn't picked up on the ground came on Josh Robinson's 32-yard pick six.
The Knights had gained 299 yards to CSU's 21 at the end of the first half . The UCF defense hadn't allowed the second CSU first down until close to the seven minute mark in the third quarter. Possibly more impressively, the Knights' offense was eight for eight in the red zone.
CSU allowed a total of 560 yards while only managing to gain 119 yards for themselves. QB Malcolm Dixon was only sacked once, but was consistently pressured and forced out of the pocket by UCF LB Jonathon Davis, who sacked Dixon on the first drive of the game.
Getting to see some action in his first game with the Knights was freshman QB Blake Bortles, who played a majority of the second half and threw for 144 yards.
The ball slipped out of Bortles' hand and went straight up in the air on an attempted pass in the third quarter. Bortles' caught his own fumble, set himself, and then launched the ball 42 yards, completing a pass to WR Josh Reese.
Next week, UCF stays at home and welcomes Boston College into town. Kickoff is at 8 p.m. and will be nationally televised on CBS. The two teams haven't faced off since 2008 when BC scored 31 second half points, beating the Knights 34-7.
"We have a big game next week against a tough opponent," said head coach George O'Leary.
"They're always a well coached team, always a very physical and tough team. We'll have our work cut out for us."