Welcome Back BBQ a sizzling success
By Manuel Marquez
[email protected]
Valencia's "Welcome Back BBQ" on West Campus was fired up Thursday by the Student Government Association and other volunteers. The patio was filled with tables, tents, fliers, freebies, and free food.
The BBQ was organized by the SGA's Vice President, Shadeh Berry. Berry has been at Valencia for a year and is studying public administration. When asked about how she felt the event was going she smiled and said, "The food is going to get people out here".
The event sizzled to success, helping to kick off the fall semester at West campus. Students were not only able to enjoy a fun outdoor activity but were also informed about the many fantastic groups and clubs Valencia has to offer.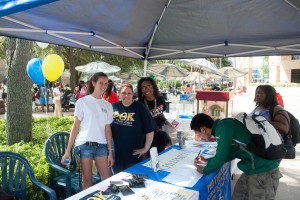 The SGA had a few tables of their own, such as a donation table where a person could donate one dollar for Alzheimer's research and receive a thank-you snack. There was also a table promoting intramural sports at Valencia and the creation of gendered soccer teams. They are currently searching for a coach to lead the teams once the everything is fully established.
Valencia Alumni were present at a table promoting membership. Current students can join the Alumni group and receive a bi-annual magazine called "Vitae," This publication has information about the group and, more importantly, about scholarships.
Photos by Sebastian Arbelaez / Valencia Voice