Fashion Show a success for Valencia Students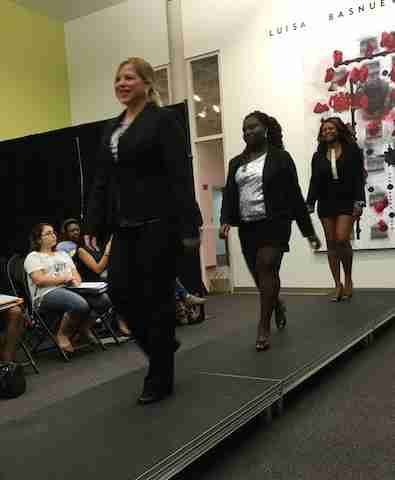 The Career Center, located on Valencia College's East Campus, put on a fashion show called Dress for Success on November 12, 2015  at the building three atrium on East campus.
Student Development, The Career Center, Dillard's Oviedo mall, Fashionality, Food Services Incorporated, and the Valencia Future Educators Club all sponsored the event. Students and staff watched their fellow students model business attire and learn the proper attire for an interview.
"All of the models are students around the college," said Cassandra Haley, Career Advisor at Valencia College. "We went around to classrooms, clubs and organizations to talk about the event and while we went around and talked about the event, we got the volunteers. Fifteen models and also five to six staff members are going to model what to wear and what not to wear for a job interview."
Everyone was seated by 12:45 p.m. and waited anxiously for the models to come out. Upbeat music started playing promptly at 1 p.m. to get the audience pumped up before the First Annual Dress for Success Fashion Show began.
One by one the models were called out onto the stage where they strutted their professional attire, which was kindly provided by Dillard's Oviedo Mall. The women were dressed in blouses with blazers, knee-length skirts, and low, closed-toe heels.
The men were dressed in white button-down shirts, black jackets, black slacks, a color-coordinated tie, and black, polished dress shoes. Some of the brands of clothing the models were wearing were Calvin Klein, Vince Camuto, and Antonio Melani.
The event also provided the audience with examples on what not to wear for an interview. For women, low cut shirts, short dresses and skirts, open-toed shoes, excessive makeup, untidy hair, and flashy, gaudy jewelry were all considered unprofessional attire. For men, jeans, tennis shoes, and mix-matched clothing were a big no-no.
The grand finale consisted of all the models doing one final walk together as the audience clapped and cheered. Refreshments, courtesy of Food Service Incorporated were served after the show.
"The show went really well," said Kim Henry, one of the event's models. "It showed the do's and don'ts of business attire. My favorite looks were the color pops, especially the blue ones."
The first annual Dress for Success fashion show might have ended, but the clothes provided are available for purchase at Dillard's Oviedo Mall.
In such a tight job market, what you wear to an interview could be the difference between getting an offer and getting rejected. So the next time you have a job interview, remember to look polished, professional, and dressed for success.
View Comments(1)