LIVE BLOG: Orlando City vs. D.C. United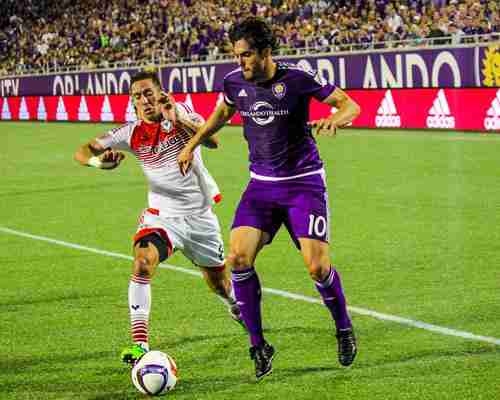 Orlando City SC (4-5-5) return home to take on D.C. United (8-4-4) as the Lions look to improve their four-game unbeaten streak. Orlando's last loss came at the hands of D.C on May 15 at RFK Stadium.
FINAL — Orlando City defeat Eastern Conference leaders D.C. United 1-0 to improve unbeaten streak to five.
90′ Harrison Heath is substituted in for Kaka. Kaka receives a nice ovation from the crowd.
88′ Rivas sends a shot way over the crossbar after Kaka fed him with a through ball.
84′ Doyle gets a shot off but it goes just wide of the post for an Orlando City goal kick.
83′ Carlos Rivas and Amobi Okugo are subbed in for Pedro Ribeiro and Lewis Neal.
78′ Hamid intercepts the Orlando corner before anyone can get a head on it.
76′ Orlando City gets a corner kick but the teams will take a water break before continuing play.
74′ Conor Doyle comes into the game for Nick DeLeon.
67′ Kaka takes a shot from outside the box but it goes wide of the post.
57′ Orlando City gets a cross into the box but Hamid gets a fist to it before Ribeiro can get a head on it.
54′ Brek Shea had an opportunity in front of goal, but he couldn't get the shot off before his momentum took him out of bounds.
52′ Kaka takes a left footed shot from outside the box but it goes well over the bar for a goal kick.
51′ Orlando City get a corner kick and they pass it in to Avila who takes a shot but sends it wide of the post.
46′ Ribeiro gets a head on the ball but his shot goes just over the crossbar to start the second half.
HALFTIME — Orlando City lead D.C. 1-0 after the opening 45 minutes. Kaka with the lone goal of the game so far.
41′ Higuita's pass back to Hall is almost intercepted but the keeper is able to clear it.
38′ Orlando City is controlling possession and are making Hamid work here in the first half. Lions have four shots on target already.
30′ The referees call for a mandatory water break due to the heat.
29′ Kaka has his penalty kick blocked by Hamid, but the follows it up with a header for a goal. Orlando City leads 1-0.
25′ Tally Hall makes a save on a Jairo Arrieta opportunity, that's his first save of the game.
24′ Kaka gets a shot on goal but it's saved by Hamid.
23′ Davy Arnaud gets a yellow card for D.C. United. the first booking of the game.
19′ Orlando City get their first corner kick but can't make anything out of it.
16′ Orlando City have put some good balls into the box, but haven't been able to get a shot on goal yet. Still scoreless
9′ Higuita with a pass into the box for Ribeiro but Bill Hamid cuts it off for D.C.
7′ Higuita takes a knock but he gets up and seems to be alright.
4′ Both teams are trying to control the ball in the midfield, D.C. has had some opportunities but still scoreless.
1′ D.C. starts with the ball and we are underway from the Citrus Bowl.
First Half:
Pre game: Orlando City starting XI: GK Hall; D Ramos, St. Ledger, Collin, Boden; M Avila, Higuita, Neal, Shea; F Ribeiro, Kaka.
Leave a Comment