Plancher family awarded $10 million
By Bryan Levine
[email protected]
The jury has reached a verdict in the Ereck Plancher wrongful death trial and they found UCFAA to be guilty of negligence.
It was also decided by the jury that Enock and Giselle Plancher were entitled to $10 million in damages from the death of their son.
Ereck Plancher was a UCF football player in 2008 when he died after an off-season practice. According to the opening statements made by the plaintiff's attorney, Steven Yerrid, Plancher died from complications of sickle-cell trait.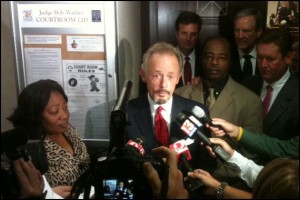 Yerrid also claimed head coach George O'Leary and athletic trainer Mary Vander Heiden did not do everything possible to ensure the safety of the young athlete.
The jury unanimously found UCFAA to be the legal cause of the death of the 20-year-old athlete.
"Ereck Plancher's death was negligence, it was wrongful and we've waited years for this," said Yerrid after the verdict.
Yerrid also made it clear that this was not an attack on the University of Central Florida, rather just the Athletic Association.
The defense plans to appeal the verdict, and they feel confident the appeal will be successful for them.
"No matter what the verdict was going to be today," said defense attorney Grant Heston. "We continue to grieve with the Plancher family."