Interview: Pete Bernhard of The Devil Makes Three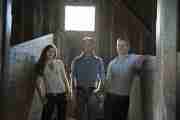 Whether their defying the traditional formation of a rock ensemble, or crossing over multiple genres to create their own unique sound; indie-band The Devil Makes Three is any thing from your normal group.
The Devil Makes Three (TDM3) ーguitarist and vocalist Pete Bernhard, bassist Lucia Turino, and guitarist and tenor banjo player Cooper McBean ー is a fully string band that blends multiple genres: blues, ragtime, rockabilly, country, punk. Yes, you did read that right; a punk influenced band with no percussionist. And according to Bernhard they do not plan on changing that anytime soon.
"We actually started with a drummer who sang and was a contributing songwriter and singer," said Bernhard in an email with the Voice. "When he started a family early on in the bands career, I think 2004, he left and we just could replace him. We found we could get by without him and have been doing so ever since.
"That said, we often add fiddle, lap steel, harmonica and other players to our albums and live shows as well. We're not worried about it only being the three of us on stage or on the records; but we don't think that drums are always necessary to get people up on their feet."
All members of The Devil Makes Three are originally from Vermont, however the group was formed and is based out of Santa Cruz, California ー when all members wound up moving there for different reasons.
Despite TDM3 latest project "I'm A Stranger Here," released October 2013, which they worked with Buddy Miller, the group had never worked with a producer. Prior to that project The Devil Makes Three approached every project with the DIY attitude and self-produced everything solely by themselves.
The Devil Makes Three is currently on a fall headlining tour with support from The Cave Singers. The tour stops in Orlando on Oct. 23, with a show at The Social.
In the interview, excerpts from which are below, Pete Bernhard discusses working with Buddy Miller ー the band's progress and fame since debuting in 2002 ー their latest album "I'm a Stranger Here," and how he thinks this is the The Devil Makes Three' best project to-date.
Q: What were some inspirations for writing songs for the latest album "I'm Stranger Here"?
A: Being a stranger almost everywhere I go was the initial inspiration for the song. After that the song is about how music can last long after the death of the writer and that in a way art can make a person immortal. Some of my favorite songs were written by songwriters we are long long dead and yet people still cover them. In a sense I think this might be what we're all after. Thus the line "I'm cheating death, i jump the grave".
Q: Was it intimidating working with Buddy Miller on the latest album?
A: Not at all Buddy is a very cool and approachable person. It was just as though he joined the band as a forth member for an album. We were nervous at first as we are all used to self producing but there was no reason for it. We had a great time working with Buddy.
Q: Do you feel this is your best work?
A: I do feel that way. It was the most fun we have had in the studio and I hope that comes out in the listening.
Q: How do you feel about the band's progress with fame and touring?
A: We have always had a slow rise in our group and I wouldn't have it any other way. We have fans who have been with us for 10 years and I am so proud of that. We started as a 100% DIY operation and have grown into what we are today. We have no one to thank but our fans for our success.
Q: What's your thoughts on when someone tries to categorize your music?
A: We try to avoid categorization when ever possible. As Captain Beefheart once said: "The bottle I come in doesn't have a label." I think music is categorized in order to be sold, sorted and understood. But you don't have to understand music to enjoy it.
We like music from so many different styles, we combine them at will and what you hear is the result of that unholy union.
The Devil Makes Three with The Cave Singers. Thursday, October 23 at 7:30 p.m., The Social, 54 N Orange Ave, Orlando, 407-246-1419, thesocial.org $20.
Ty is a college student at Valencia College studying Journalism and Digital Media. Follow him on Twitter
@Tru2Ty
Leave a Comment