Soko talks new music, thrifting, acting career, more
From teeny-boppers to Oscar winners, nothing is ever enough for celebrities these days.
Over the years we have witnessed many actors attempt to add the title rock star to their entertainment resume; some in hope to gain a new fan base, and others to show their already loyal following another side of their personality. For French singer-actress Soko, it was more so she could have a better creative outlet that would make her feel self content, as well as one where she could work on her own schedule.
"I thought that acting and waiting for people to value you enough to give you a chance to prove that you're OK at it was the most boring thing ever," she said in a recent interview when discussing her reasons to venture into music at this part of her career.
"
I thought that acting and waiting for people to value you enough to give you a chance to prove that you're OK at it was the most boring thing ever. "
— Soko
It's no secret that the Bordeaux, France born star is a very busy individual. In addition to acting and singing, she also directs her own music videos and is constantly on the look out to find new clothing items.
To date, Soko has appeared in more than 10 films, including a performance in Spike Jonze's Oscar winning film "Her," as the voice of Isabella. She released her debut studio album, "I Thought I Was an Alien," in 2012. Throughout the catchy 15-track project, we experience Soko's dark, vulnerable, seductive and honest persona, over crisp vocals, laced with delicate guitar picking; someone you would enjoy hanging out with but would be on the edge of getting into a relationship with because you'd never would know if she wanted to kiss you or stab you at any given time. The album contained the single "We Might Be Dead By Tomorrow," which appears in the "First Kiss" viral video. (If you watch closely you will notice that she is also one of 20 strangers kissing for the first time in the experiment.)
While Soko is set to appear in her first American film where she will serve as the lead act, she is currently focusing her time on music: performing a string of headlining shows, serving as an opener on Foster the People's Fall tour, and working on a new album which is set to come out in winter 2015.
In the interview, excerpts from which are below, Soko spoke frankly about her upcoming album "My Dreams Dictate My Reality" — the loss of her father and how it disconnected her from the world — as well as her personal style and how it is the best thing to express her current mood.
Q: You have had success as an actress and as a musician. Are you drawn more to acting or writing and performing, and why?
A: I love it all, I love adventures and diversity. I can't do just one thing for too long or I'd get bored. I like to keep myself busy with challenges all the time, but when I'm in the middle of doing one thing, like right now, being on tour, then that's all I want to focus on, until that's done
When I was making my album, I couldn't even read scripts or hang out with friends or anything.  I'm so full on in everything I do.
Q: What are you most excited about on this tour with Foster The People, and what are you hoping to gain from this experience?
A: The first show, I was terrified to play in these huge arenas, I haven't played any shows in so long because I locked myself away from performing while I was recording. And my first show in San Diego with Foster was on this huge stage; I thought I was going to faint. But it went so well, we played a bunch of new songs. Which was amazing because they're a lot more epic, punk, gothy sounding, and fun to play.
So I think I'm starting to overcome my fear of big stages, maybe.
Q: Besides longer set time, what can you Florida fans expect from your headlining show date versus your support show with Foster the People?
A: Well, I feel totally at home playing more intimate venues. I'm being myself 100000 percent. On big stages, I'm still a bit nervous and a tad more reserved. Playing smaller venues is so comfortable, easy and fun for me. I get to be able to make mistakes and talk and laugh and tell stories.
Q: Are you one to enjoy and sightsee the cities that you perform in or rather just stay at the venue? I ask that because you will be performing at the Hard Rock Live, located within Universal City Walk, do you have any plans on checking out the amusement parks?
A: I am one to love any opportunity for adventures for sure. And what, there's rides. I had no idea. Take me there please.
Q: What differences have you noticed between touring in America versus your native country France?
A: Well, in America people understand my lyrics! [Laughs]
Q: Your second studio album "My Dreams Dictate My Reality" is slate to release sometime this year, a little over two-and-a-half year since your debut project, how would you say this album is different, and shows your growth as an artist over the time?
A: I think it sounds really dark and gothy and punky. On my first album I felt like all I could be was vulnerable. And on this one, my voice is a lot deeper, and still vulnerable but a bit more confident I guess. And I trusted myself more with arrangements, so there's a lot more production on a few songs.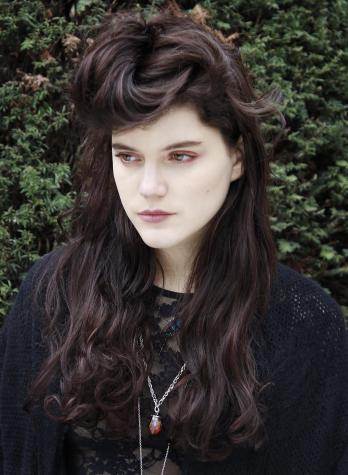 Q: What is your writing process like? Do you get lost in writing a ton of lyrics first and then create music naturally, or do you take a more conceptual approach?
A: I write everyday and accumulate thoughts and ideas — and it starts getting clear what the main subject is in my life — and then as I'm about to fall asleep, I have full songs, lyrics and arrangements in my head and have to wake up and record it as a voice memo on my phone, maybe record the guitar or bass riff top and beats. And then hope it still makes sense in the morning.
Q: I noticed in many of your older interviews you stated you begin drawing to the arts following your father's death at age 5, to help express your emotions. At this point of your life; where, what and who do you draw inspirations from?
A: Indeed. I was a very weird kid. I had no friends, I didn't really know how to interact with people because I was so sad and had an extreme conscious of how temporary everything is. So I think, all I was expressing was dark thoughts. I was drawing only in black and white.. Mega goth!
Q: People describe your style as very pop-chic, grunge-like, and tad bit straightedge. How would you describe your style? And is that something you spend a great time focusing on?
A: I have a lot of clothes. My closet looks like a vintage store. I love collecting random weird pieces that I feel comfortable with. The crazier I dress the sadder I am; and I try to dress crazy and fun to feel better !
Q: Would you consider yourself a thrifting Diva?
A: Diva? Uh.. No.. But I do love thrift stores. I'm quick in them though. I can tell right away if I'm going to be lucky or not!
Q: You also have roles in a few upcoming films, are their any you can speak on, or looking forward to most?
A: Yes! I got my first lead in an American movie directed by Nina Ljeti; It's really beautiful.. And another lead in a movie called "The Dancer," directed by Stephanie DiGiusto, about Loie Fuller, who was an incredible dancer in the turn of the century.
She's an incredible woman; I'm so lucky I get to play her. Elle Fanning is going to play Isadora Duncan in the movie. I'm excited to shoot with her.
Q: Any plans on getting back behind the camera and producing more videos; Is that a likelihood for the visuals for the upcoming project?
A: Yes! I can't wait actually. That's almost my favorite part of it all, because it's so easy and fun. I have a bunch of ideas for all the new songs; and I just bought a crazy 80's cheap analog black and white camera that I'm really thrilled to play with!
Soko with Sweet Bronco and Tiger Fawn. Wednesday, October 15 at 8 p.m., The Peacock Room, 1321 N Mills Ave, Orlando, 407-228-0048, www.ticketweb.com; $10.
With Foster the People. Saturday, October 18 at  9 p.m., Hard Rock Live, 6050 Universal Boulevard, inside Universal City Walk, Orlando, 407-351-5483, www.hardrock.com; $37.50 to $70.70.
Ty is a college student at Valencia College studying Journalism and Digital Media. Follow him on Twitter @Tru2Ty
Leave a Comment