Valencia Cinema Nights aiming to help students understand films at higher level
From film buffs to passive film goers, all are welcome to Valencia's Cinema Nights.
Cinema Night at Valencia third event resulted with a modest turnout as professor of Humanities Bob Warren hosted the evening's feature film "Blue Velvet."
"Blue Velvet," directed by David Lynch, is an excellent example of contemporary surrealism. A style many passive film goers may not be used to.
The crowd was a mix of heavy to modest film goers, with an open floor after the film for anyone willing to share there thoughts.
"We'd like to introduce students to a higher level of cinema," said Warren after the event. "This gives us an opportunity to show film as art."
After the film was a range of opinions, with many students commenting on some of the films more abstract concepts and perplexing imagery.
The event is run by the Cinema Nights committee, fronted by Humanities professors Warren and Natalie E. Sutton. Films are chosen among the committee's professors as a way to introduce students to films with a cultural significance, said Warren, before stating "Though, we'd like to get more students involved to try and balance it."
The next event will be held on Tuesday, Oct. 7 featuring Roman Polanski's "Rosemary's Baby" with special guests, authors Christopher and Kathleen Vander Kaay.
For more on Cinema Nights at Valencia, please visit their Facebook page.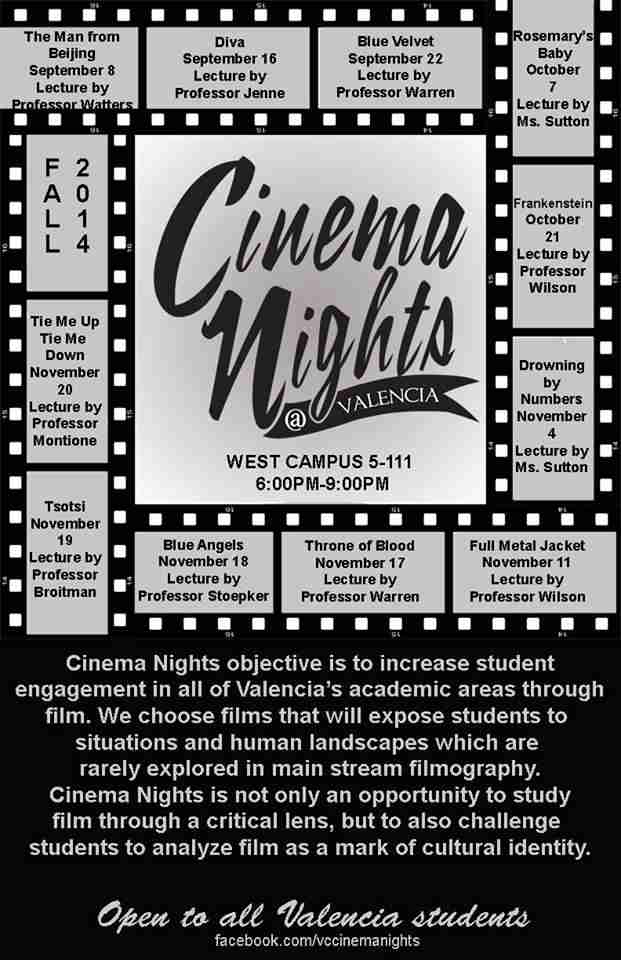 Leave a Comment