Katt Williams, HBO bringing 'Growth Spurt Tour' to CFE Arena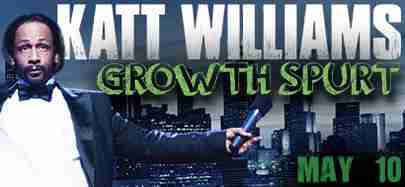 It's been over a decade since funny man Katt Williams first graced our television skills, with his role as Money Mike, a pimp who Ice Cube's character save in 2002 film "Next Friday."
After a few brief run ins with the law and an eyebrow-raising "retirement," Williams will return to HBO for the "Growth Spurt Tour," his second stand-up comedy special with the network.  returns to the stand-up stage for the Growth Spurt Tour."
According to a release from HBO Programming President Michael Lombardo, the performance will be taped on May 17, at Williams' show in Ontario, California at the Citizens Bank Arena. The exclusive hour-long presentation will be directed by Spike Lee and debut later this year.
The "Growth Spurt Tour" hits the CFE Arena in Orlando on Saturday, May 10. We were advised that HBO will be accompanying Williams to this show, so who knows, maybe Orlando will make a cameo in the program.
Who: Katt Williams
What: "Growth Spurt Tour"
When: Saturday, May 10, 2014
Where: CFE Arena on UCF Campus
Price: $43-$140.10
Tickets: Available
Katt Williams previously appeared on HBO in the 2006 solo special "The Pimp Chronicles Pt. 1," as well as "Russell Simmons' Def Comedy Jam." His feature-film credits include "Scary Movie 5," "The Obama Effect," "Lonely Street," "Norbit," "Cats & Dogs: The Revenge of Kitty Galore" and "Friday After Next," while he has been seen on such TV series as "NYPD Blue," "My Wife and Kids," "Girlfriends" and "The Boondocks."  Williams has also appeared in music videos with such stars as Ludacris, OutKast and Lil' Kim.