Tampa Spartans set sights on a ring following record breaking year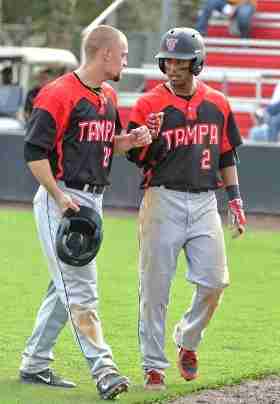 Fresh off of a record-setting season, the University of Tampa baseball team still isn't satisfied with where they stand.
The Spartans set an NCAA Division II record with a .959 winning percentage over the course of the season by finishing with a 47-2 record, but they still understand that there are more games to be played.
"It doesn't matter what you do in the regular season, it's a new season as soon as the playoffs start," said Spartans shortstop Giovanny Alfonzo. "We did a good job in the regular season and we did a good job setting ourselves up for the playoffs but we haven't really earned anything yet.
"We set the NCAA record for regular season, but that doesn't put a ring on your finger."
The team will learn its postseason schedule on Sunday when the NCAA announces which teams will compete in the tournament.
The Spartans' winning attitude starts with head coach Joe Urso and the way he leads the players.
"He looks at the bigger picture as opposed to other coaches that I've played for that say, 'Take it one game at a time.' Urso wants that game for a bigger reason," said Alfonzo.
"From the beginning of the year it's, 'Let's win the conference … and get to the World Series."
Alfonzo joined the Spartans this season after transferring from Florida State. The idea of moving from a power house school in Division I to a Division II school in Tampa was made with his future in mind.
"You try to put yourself in the best position to get to the next level," said Alfonzo. "Being at Florida State and being able to play almost every game last year, I played well and I thought I had a good year.
"They have a fifth-year senior going back; last year I got to play because he went down [with a hip injury]. He ended up getting his medical redshirt and he was going back this year and I knew that he was the guy."
With Justin Gonzalez returning to the diamond this season for Florida State, Alfonzo decided it was best to transfer and compete for a starting shortstop job in Tampa.
"I feel like for me the best thing to move on is to play shortstop," said Alfonzo. "I had to think what was better for me, for my career."
Alfonzo started 59 out of 62 games last season for the Seminoles while batting .263 with 31 runs and 26 RBI. In his first season with the Spartans, Alfonzo started in 44 out of 46 games while improving his average to .304.
Alfonzo said there isn't any major drop off among the players in Division II, but said it can be frustrating that the team hasn't gotten any national recognition. He and his teammates are using the lack of recognition as motivation.
"It can be frustrating, [especially] for me because I came from somewhere where if you do something great it's all over the place; you see it on the Internet or all over ESPN," said Alfonzo.
"It's something that you get used to, but at the same time it humbles us. We've done this much and still they don't want to hear about it, let's do more. Even if it's just a quick mention, I think we deserve a little bit of respect."