World of Dance shakes up Osceola Performing Arts Center
The World of Dance made their stop in Orlando and welcomed both street and studio dance crews to the stage. Dance crews performed to gain recognition, reputation, and to compete for a title.
All across Florida, dancers and supporters came to be a part of the underground movement of urban dance culture. The event was hosted by the Osceola Performing Arts Center in Kissimmee, where locals were embraced by the company of other dancers.
Some of the industry's renown were introduced during the meet and greet hours before the judge's showcase. Dancers from MTV's "America's Best Dance Crew," Fox's "So You Think You Can Dance," NBC's "America's Got Talent," and well watched Youtube channels were all awaiting to meet anxious fans.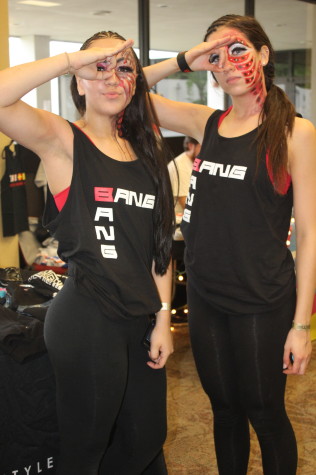 Megan Batoon, an Orlando native, performed in front of her family for the first time. Batoon dedicated a choreographed piece to her parents who sat in the back of the auditorium. She cued the crowd to stand, scream, and pose, for her new GoPro camera in the middle of her performance. The crowd was responsive and Batoon expressed her great gratitude and love for being "back home."
The competition required first, second and third round cuts.
During intercessions, dance still remained active. Beside the main stage, a DJ mixed music and energy permeated throughout the room. Spontaneous dance circles sparked battles and invited all styles of dance to participate.
"I love coming to dance events, it gets me hype," said event attendee Ronny Moquea. "When I see other people dance, I'm not there to battle them; you know, it's like I can definitely learn something from someone else."
All-Styles League, originating from Tampa, formed an old-school type dance circle by clapping their hands together and chanting "No music." Break-dancing and intricate pop and locking techniques attracted by-passers to watch the crew.
The convention extracted crews out of their domestic dance scenes and deposited them into a World of Dance.
The Levitations, from Santa Fe College in Gainesville, got to showcase their work to a larger crowd. The team began performing at college parties, events, and halftime shows. After practicing continuously, even until 2 a.m. at times, the World of Dance convention gave them the chance to "get known," said Keshawn Herbert.
"The dance community as a whole is one big humble family, and to venture out into these cities and spread the kind of opportunities we have out here, is just one family member helping out another," said Christian Galvez live events manager at the World of Dance.
The event also promoted street style clothing provided by LRG, Ecko Unlimited and Rasta Clat. One of the longest running sponsors was Paul Mitchell. The styling team created fun up-do's, braids, men's styles, and curls for the dancers prior to their performances.
"I am a dancer first, so I felt right at home and I could connect to the dancers and fans alike. It was the best of both worlds," said stylist Nicole Cuevas.
The cultivation of urban style dance, clothing and art all came together at the World of Dance. The tour will continue with stops in Canada and Europe. Weekly updates and videos can be found on the World of Dance website.