Magic fall to Cavaliers in Irving's return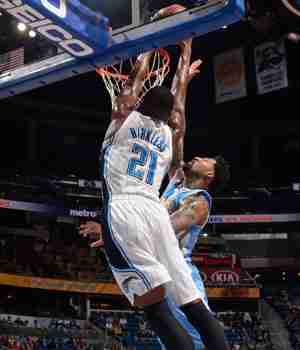 Kyrie Irving returned to the starting lineup for the Cleveland Cavaliers on Wednesday night to help them beat the Orlando Magic 119-98 in front of an announced crowd of 16,092 at the Amway Center.
Irving scored 17 points for the Cavaliers after missing the last eight games with a left bicep strain.
"I was really excited to be back out there with my teammates," said Irving. "I just wasn't trying to force it and let the game come to me and play off of my teammates as best as I can."
The Cavaliers took advantage of the Magic's lackluster defense, which gave up a season-high 70 points in the first half.
"They were really intent coming into this game," said Magic head coach Jacque Vaughn. "Mike [Brown] really had those guys ready to play. They were the aggressors and that's what it boiled down to – two 35-point quarters in the first and second quarter. Give those guys credit, they really played well."
The Cavaliers benefited by having five players score in double digits, including 26 from Dion Waiters and 20 from Spencer Hawes and Tristan Thompson.
Despite leading the team in scoring with 26 points, Waiters said it was huge for the team to get Irving back from injury.
"It opened up the court for me a lot," said Waiters. "At the end of the day, I am not that main person for people to focus on; [Kyrie Irving] can do everything. It helps me out a lot."
The Cavaliers relied on scoring 64 points in the paint to help build their lead to 28 points in the second half.
"Scoring 64 points in the paint was a testament to our team moving the ball and attacking the rim," said Cavaliers head coach Mike Brown. "It's something we've been stressing to our guys. Our guys did a nice job of attacking the paint and attacking the rim."
The Cavaliers are one of three teams vying for the eighth and final playoff spot in the Eastern Conference. Wednesday night's win moved them within two games of the New York Knicks with six games left to play.
Jacque Vaughn noticed the Cavaliers' urgency during the game, and said they came out ready to play.
"I have respect for every team in the league," said Vaughn. "I definitely believe that it seemed they were really ready to play. They had kind of a focused approach to what they were trying to do tonight."
The Magic play in Charlotte against the Bobcats on Friday night and return to Orlando to face the Minnesota Timberwolves on Saturday night.