Energy conservation group helps Valencia save $ 2.3 million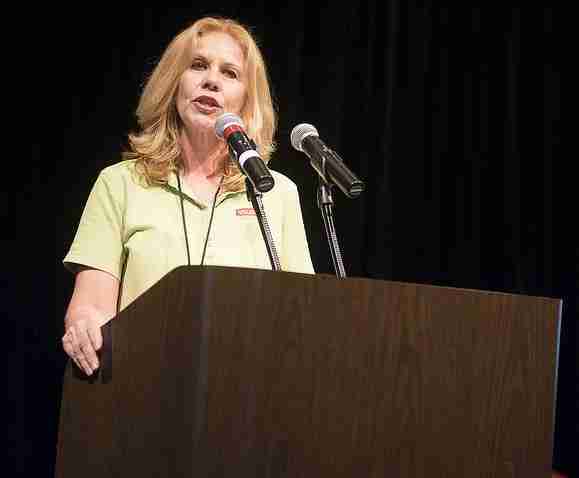 Patience, respect and persistence are the principles for Patti Riva and the energy conservation group.
So just who is Patti Riva? She is the operations manager; energy educator that has taken on the task to help individuals adjust to how we, as a college, can conserve energy through behavior changes.
The energy conservation group is a branch of the office of sustainability with the focus on energy savings. Since launching this program in May of 2011, the college has saved $2.3 million.
"We are looking at how can we capture energy savings by what we do as individuals, groups of people, etc. faculty staff and students versus just what equipment does," said Riva. And she has done just that. Her colleague Robert Hickman operations manager of energy efficiency who focuses on sustainable equipment, hardware side, seeks out the most efficient equipment we can include when we build new buildings, or change out old equipment.
Both of these individuals have achieved great success by working in conjunction with one another, and taking money conservation to new heights for Valencia College. Money saved is put into a general fund that is disbursed back into the college in innumerable ways. Previously, the AC units would run for twenty four hours on campuses.
Now with the strategic planning prepared by Patti, Valencia is able to save a substantial amount of money. The systems known as air handling units are put in a certain mode so that when they reach a certain temperature, they are to kick back on. Buildings that have multiple levels of floors will have units installed that will control each floor, and yet again save more money.
"Where [we] had classes that were scheduled in all the campuses previously, now we are looking at how can we strategically schedule so we can use fewer buildings essentially maximizing the use of the buildings," said Patti.
Occupancy sensors are in classrooms, and if there is no motion for a period of time then the lights will go off automatically. But, if just one individual would manually turn off the lights it would capture energy savings. And over time greatly contribute to saving money for the college and supporting the energy conservation group.