Magic Kingdoms debuts new Disney Festival of Fantasy Parade
The brand new "Festival of Fantasy" parade premiered this past weekend at the Magic Kingdom in the Walt Disney World Resort.
The parade featured eight new floats, each of which were fit with its own theme music, dancers, choreography and costumes.
The first of the floats was a combination of several Disney movies and characters: "Beauty and the Beast," "Cinderella," "The Princess and the Frog,' and Disney's latest "Frozen."
The characters on the float were Belle and Beast, Prince Naveen and Princess Tiana, and Elsa, Anna and Olaf. The float featured a giant version of Cinderella's pink dress from the film that was made by her animal friends.
The next float was "Tangled" themed. The design was a giant Viking ship, with swaying axes. Flynn Rider, Maximus and Rapunzel (and the entirety of her braid) adorned the ship.
Ariel in her mermaid form sat upon an open clam shell, waving to the crowd and using a "dinglehopper" to comb through her red locks. The dancers for the float were colorfully dressed as the bright marine life found in the coral reefs.
The Lost Boys paraded through the streets, introducing the crowd to the next float. The second ship to be featured in the parade was steered by Peter Pan and Wendy Darling. The tiny ship sat atop a huge rainbow, complete with the Skull Island cave on the front and Tinkerbell's nook on the back. Captain Hook hung onto an anchor underneath the rainbow. The float was followed by Tick-Tock Crocodile.
Merida from "Brave", along with her three little bear brothers, rode in on a larger-than-life bagpipe. The dancers for the float had the most intricate choreography, with traditional Scottish dancing.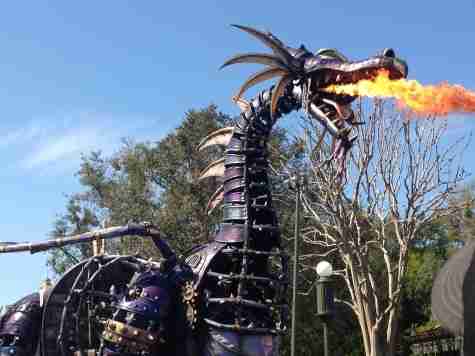 The most spectacular float was a steampunk-inspired version of Maleficent in her dragon form. The dragon looked as though it was made out of gears and various other homemade clockwork.
Stilt walkers dressed as Maleficent's famous thorny vines moved creepily around the float. And the best part of it all? The dragon breathes actual fire. The crowd went wild every time fire was blown.
The final two floats were more traditional. One was circus themed, with Dumbo and his other elephant friends.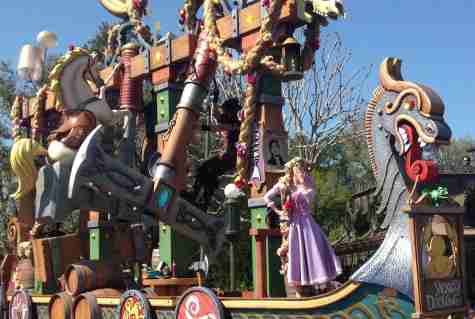 Daisy, Donald and Pluto as well as other classic Disney characters danced around the float.
And of course, the finale was Mickey and Minnie on a Hot Air Balloon float. They both wore costumes that matched their float.
Overall, the parade is the best Disney has seen in years. The music for each float is themed to each movie that the characters came from. The floats are beautifully crafted and well worth waiting to see.
The parade will be featured every day — weather permitting —  at 3 p.m. in Magic Kingdom.
Leave a Comment