Valencia is training future lifesavers with EMT, paramedic programs
There are a substantial amount of programs offered to students to partake in at Valencia College , and it is at the West campus of Valencia where there is an intense, and valuable, EMT and Paramedic program offered to those students interested. There is one in particular that we have chosen to highlight for this week's issue that involves a lot of team effort, dedication and pure courage.
Unfortunately, medical emergencies and accidents happen every day, and it is a team of many individuals that respond to those 911 calls. Of that heroic team it is the EMT's, Emergency Medical Services, and paramedic's that respond to those calls.
What exactly are EMTs and Paramedics, and what are their job descriptions?  Well they are very similar, they both require a lot of time and dedication to be successful and exceed expectations.
The EMT's are those who are trained to aid in the basic medical needs of a patient before and during a medical transport to the hospital.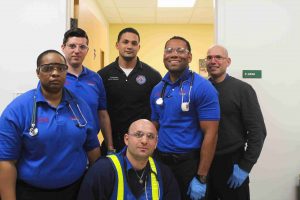 For the course at Valencia the EMT program is open enrollment. It is the paramedics who endure a more extensive training program that require a lot more hours.
They are trained to treat people who are wounded or sick before and or while undergoing transport to the hospital. Students who are accepted into Valencia are not automatically guaranteed acceptance into the paramedic or EMS program.
For the Paramedic program an EMT diploma is required to be accepted into the program. Whereas, the EMS degree is earned by having an EMT diploma and Paramedic diploma while also completing the electives and general education required. Students have joined the program for a plethora of reasons.
Some shared that they have joined the program to help save lives, help those in need and some to be involved hands on and take on a challenge.
Roman Perez said that a fireman saved his father on September 11 and that has inspired him to give back and take on that role to help others. He stated that he will continue his education to complete the courses required to become a fireman.
For those interested in being future students in the program many suggested to be prepared to take on a lot of information, be aware of the time management that is needed to be successful and take advantage of the great program Valencia has to offer.
(Taken from Feb. 12 issue)