All-star snub adds extra motivation for Arron Afflalo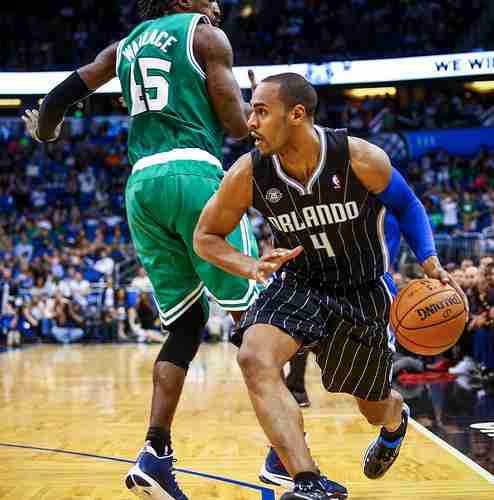 Orlando Magic head coach Jacque Vaughn told Arron Afflalo to use the second half of the season to continue to let the league know good he is, and so far he is on the right track.
Afflalo responded to Vaughn's message by scoring 21 points against the Milwaukee Bucks on Friday night, and 18 points on Sunday night against the Boston Celtics.
Vaughn's message to Afflalo came less than a day after Afflalo was left off of the Eastern Conference's All-Star reserves list. Afflalo isn't focusing on the negatives of his exclusion from the roster, but rather using it as motivation.
"I'd rather use the word motivate than disappointed, because if you use disappointed then you put yourself in a negative mindset.
"There are certain feelings at points in your life whether it's a motivating factor or something you look forward to that didn't happen, but for me it's given me a new level of passion, a new level of hunger," said Afflalo
Afflalo is having the best season of his seven-year career this season, averaging career highs in points, rebounds and assists. Despite making improvements in those categories, Afflalo is using the All-Star snub as a chance to get better.
"That's the only way to look at it," said Afflalo. "If you have an option to get worse or to get better, you're going to get better. I've got an extreme fire burning, just overall not even about tonight. I think my focus is going to heighten everything I do."
Vaughn noticed that focus before the first game after the All-Star rosters announcement.
"He really wanted to play tonight," said Vaughn. "He had a steely want in his eyes. He's a guy that takes pride in his craft and whether or not he says he was trying to send a message, I'm not sure. I just loved the way he played tonight; his focus was extremely diligent."
With the Magic sporting a large lead over the Bucks, Vaughn elected to rest Afflalo during the fourth quarter.
Afflalo joked after the game that he wanted to play every minute, but added that he's always going to do what the game calls for.
"There will be nights where I will be more aggressive, but tonight the game was in hand," said Afflalo. "I thought the assists and production was coming pretty well balanced."