Yordany Alvarez praises Orlando City SC front office for signing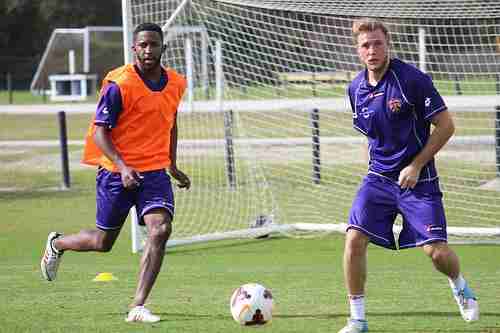 When the opportunity arises, seize it.
Sounds cliche, right?
For Yordany Alvarez, that's something he lives by especially since returning to the place where he got his first opportunity.
A relationship between a player and coach is something that can blossom into glory. For some, that could be individual success, for others it mostly means winning trophies, a lot of them.
"I'm really happy to be back in the city. The way the welcomed me back was great, and I have a feeling that once we enter MLS, it'll be one of the greatest cities in the league," Alvarez told the Valencia Voice last Saturday during the club's jersey unveiling. "I give all the credit to Adrian (Heath) for giving me the chance to return to the club. He's been a very important person to me in my life, he gave me my first opportunity, and I'll always have that in my heart.
"I'm really grateful to coach, but also Phil (Rawlins) and the whole team. I come here to work hard, not to relax, but to win a championship, and I want to go to MLS with a good impression."
Heath and Alvarez working together isn't new, both coach and player were part of the Austin Aztex franchise in 2009, which followed by them working together during the Lions' inaugural season in the USL Pro in 2011.
"We've always had a good relationship from the very beginning," says Heath. "It's well documented, we met at a combine in California, and I've always been an admirer of him as a player and a person.
"We got a great guy, and a great player. He's grasped the opportunity with both hands, and I'm proud of that. We got a player that can play really well no matter which league he plays in."
With day one of preseason training out of the way, the Cienfuegos, Cuba native will sport the No. 10 on the back of his jersey, signaling that he could or can be an important figure to Orlando's last run in the USL Pro.
For Heath, his job as "opportunity giver" continues. Heath says, "I think that's part of my job, giving young talent the chance to take it to an extra level."