Ramshackle Glory lead singer coming to local entertainment hall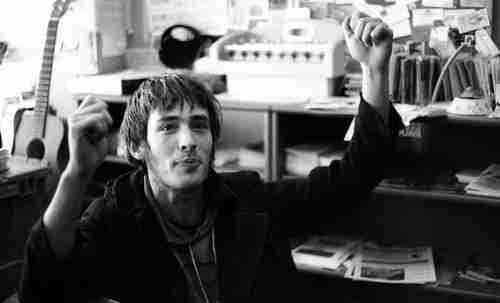 Ramshackle Glory's singer songwriter Pat "the bunny" Schneeweis is leaving the rest of his band behind for the first half of 2014 and hitting the road for another solo tour.
Schneeweis will be making a stop-off in Orlando at Uncle Lou's Entertainment Hall Feb. 5. Tickets will be on sale for $5 at the door on a first-come, first-served basis on the day of the show.
He will be performing Ramshackle Glory songs along with never before performed original tunes from his solo November release "The Volatile Utopian Real Estate Market."
Schneeweis is the former lyricist and frontman of Johnny Hobo And The Freight Trains and Wingnut Dishwashers Union. Both of which fall under the anarcho-punk, folk-punk umbrella.
His current project Ramshackle Glory was birthed from the ashes of these two bands in Tucson, Ariz. after a trip to rehab for heroin addiction.
The band describes themselves as "punk with all the wrong instruments" on their Bandcamp.com profile. With instruments like a banjo, accordion and the clarinet, Ramshackle Glory is anything but a normal punk rock band.
Their members range anywhere from "seven or eight or 111 people," says Ramshackle through their Tumblr.com profile.
Pat "the bunny" is the glue that holds them all together as he uses the Ramshackle Glory project to reflect of his own progression and through life as an anarchist punk rocker.
"Johnny Hobo is about an old way of living, Wingnut Dishwashers Union is about questioning that way of living but not being able to do anything about it, and Ramshackle Glory is a point of departure into a new way of living," said Schneeweis in a recent interview.
Ramshackle Glory has released two full-length albums: "Live The Dream" (2011) and "Who Are Your Friends Gonna Be?" (2012) along with one split record, "Shelter," in 2013.
Pat has released three solo albums: "Die The Nightmare" (2011), "The Mark Inside" (2013) and "The Volatile Real Estate Market" (2013).
 Updates on band info or shows can be found at Ramshackleglory.tumblr.com or by following the band on Facebook.
 Tooth Soup, Gnarly Whales, Dead Yetis and Among Giants will also take the stage as supporting acts.
 This will be Dead Yetis final performance.