Nonprofit focuses on small things
Allie Sinclair remembers the first Heavy and Light show at the Social in Orlando like it was yesterday.
"Back in 2007 I attended [the show] because I was passionate about the organization, just as much as I am now," said the 27-year-old out of Orlando. "I remember the music hitting my heart, and the message that continues to carry on with me now."
Sinclair has been to every Heavy and Light event except one, due to a family emergency since they first began in 2007.
Heavy and Light is an evening of songs, conversation, and hope — as described in the program guide. It is not a benefit concert or an attempt to raise awareness. It is presented by Jamie Tworkowski's To Write Love On Her Arms (TWLOHA), a non profit movement dedicated to pressing hope and finding help for people struggling with depression, addiction, self-injury, and suicide.
Much like any young adolescent, growing up Sinclair had trouble "living up to society's standards" and fitting in with what the world considered normal. "I'm lucky enough now to be older and realize that I don't really care about society or what they think of me, but I still have my moments. I can't imagine what it's like to be a teenager these days," said Sinclair.
"My head is a constant battle, because I suffer from severe social anxiety. It hinders pretty much everything I do, and when it gets really bad I fall into a depression. I'm learning to deal with it and fight bigger purpose for me," Sinclar added.
TWLOHA story began in 2006, when Tworkowski wrote a story about a young lady by the name of Renee Yohe, who he and his friends helped get cleaned up so that she could be admitted into a rehabilitation center.
What began as an attempt to help one person in Orlando has generated global interest, responding to more than 170,000 messages from over 100 different countries, and have also given more than $1.2 million to treatment and recovery.
TWLOHA has received endorsements from an array of celebrities and bands throughout the years including but not limited to: Miley Cyrus, Paramore, Mary Lambert, The Summer Set, Tristan Prettyman, and Jon Foreman of Switchfoot (who is also the first person to wear a TWLOHA shirt). Many of these artist have not only just spoke about the organization through social media but have also made appearances at different events.
"I don't exactly consider these acts big. I consider them people who share the same love for recognizing people aren't alone in their struggle. TWLOHA is very much a family, and it continues to grow," said Sinclar who states that "Jon and Jamie are my role models."
It's no wonder that Sinclar was nervous and shaking when both  and Foreman recognized her Sunday night at the House of Blues for "something so small," as she credits them as two of the people who have kept her alive.
Foreman was an a surfing accident last Monday, where he slashed his face and had to get more than 30 stitches — many of which are inside his upper lip. Sinclar prepped a care package for him: mechanical puzzle, slinky, Sudoku puzzle, Superman ba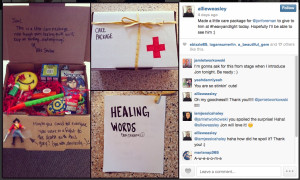 nd-aids and a mini guitar — before Foreman took the stage, Tworkowski called her to the front of the venue to receive the package so that he could give it to him.
"To be recognized by two of my heroes is overwhelming of course," said Sinclar. "To know that two people in the same room have impacted your life are recognizing you for something so small — I literally got pretty much everything in that box from the dollar section, but I wanted to make him smile — is enormous."
"Overall I think the whole message of him having me come up and give that package to Jon [Foreman] is just a simple subtle message to take care of each other when they're hurting, either externally or internally. Or both," said Sinclair. "These events can't really be replaced. Year-after-year I am thankful and feel so much better when I leave. The overall feeling was uplifting, re-assuring, positive, and loving.
"I cannot stress that last word enough. We are all in this together, and you could feel it in that room last night. I felt inspired, moved, and safe."
(Taken from Jan. 22 issue, front page)