UCF football celebrates magical season at Disney with parade
LAKE BUENA VISTA — A dream of many young football players came true Sunday afternoon, as the UCF Knights football team were welcomed by Mickey Mouse, and thousands of family, friends, and fans in a celebration parade down Magic Kingdom's Main Street, U.S.A.
Head coach George O'Leary found himself sitting alongside the world's most famous mouse, and was taken back by the day.
"It was outstanding, I never waved and smiled so much in my life," said O'Leary. "The UCF family showed up in great numbers, and i'm sure the players really appreciated the recognition…
"I'm happy for the football team, Its all about the team and what they accomplished," added O'Leary.
The popular "I'm going to Disney World" ad campaign has been associated with sports since the late 1980s, and has usually been linked to the Super Bowl MVP, with parades normally reserved for the Super Bowl winning team. The Knights can consider themselves in rare company for the admiration.
"The only time I've seen them do this is for Super Bowl champs, so we feel very honored," said O'Leary.
Recent graduate and parade attendee Josh Siegel echoed similar sentiments- "I didn't expect a parade at Disney, FSU isnt even getting one, and they are the national champions. That tells you something about the Knights, simply put, it was a great year to be a Knight."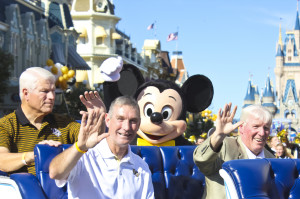 Just like O'Leary, the players  gleamed from all the love and support from the crowd. "All the fan support, just being at Disney World, dreaming this as a kid hearing all the NFL guys talking about going to Disney World, and to have such a turnout, we are so thankful," said linebacker Terrance Plummer. "For Disney and the city of Orlando to recognize us for what we did this year, it's going to help us build our brand…we are just really grateful, and humbled."
Theres something about Disney that just brings out the kid in everyone, and that held true for Junior defensive back Brandon Alexander.
"I feel like i'm 10 years old out here," said Alexander. "When we got here it was such a rush of adrenaline, as if we were playing in a game. It felt like the Fiesta Bowl," added Alexander.
UCF is blessed to have the popular tourist destination in its own backyard, which made it only fitting for Disney to invite the local champs to be recognized by the masses.
"I think Disney doing this is outstanding. Its just a great situation having Disney in our hometown, and having them honor us like this," said coach O'Leary. "Its good for the community, its good for us being the local guys," added Alexander. "It speaks volume about our team…not a long time ago, people would say what's UCF? Now UCF is taking strides to get better and better each year."
All the hard work that went into shaping this season paid off for this Knight football team, as they truly put together a "magical" year for not only the university, but also for the countless fans in the city of Orlando, and beyond.
Alum Rob Vetter said it best- "Fitting we are at Disney, because it's beyond our wildest dreams."