Wait, was that a twerk
Concert review: Charli XCX, Kitten play Social
All age shows are always interesting and full of unique people. This was no different Wednesday night at The Social for English-diva Charli XCX and indie-rock band Kitten.
While the doors did not open until 7 p.m., there was already a pretty decent line formed at 5:30 p.m. when I arrived to interview Chloe Chaidez of Kitten before the show. Some fans so early that they beat both artist to the venue and stated that they watched them arrive in their "normal clothes."
In the front of the stage, teens kept their "X" marked hands waving from side to side for the entire show, as their chaperones and miscellaneous older-couples drank and danced away by the bar.
Decked out in all black, headliner Charli XCX approached her blue LED mic stand — backed by a band made up of schoolgirls band — and the already energetic crowd excitement quickly escalated even more.
Charli opened up her 70-minute set with rap song "What I Like," and gave those who never heard her major-label debut, a chance to enjoy "True Romance" in it's entirety, as she ran through almost every song on the tracklist. While her performance to Icona Pop's popular single "I Love it" — which she featured on and co-wrote — got the crowd jumping, it was her original material that got them to shake the club.
Her latest single and fan favorite of the night "Super Love" went over well with the audience as the singer gyrated, giving her best 2000 Britney Spears' reenactment. If Charli was not at the microphone stand she was out interacting with the crowd, showing she could also be a hardcore-rocker. During "You (Ha Ha Ha)" the singer thrased around the small stage, and during "Take My Hand" she encouraged members of the audience to do just that, as they pulled her into the crowd during the upbeat party anthem.
Before ending her set with hard-hitting synth-pop jam "Grins," Charli invited Chaidez on stage to join her in covering Bow Wow Wow's "I Want Candy."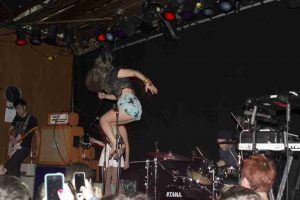 Kitten did not let Charli XCX have all the fun, as the band kicked the show off. Lead by Chaidez, who performed the entire set shoeless, the band got into the thrasing early.
From their lead singer down to their keyboardist, the band packs a ton of energy. Shows always go well when the crowd is familiar with the opening act, and doesn't mind showing up early to see everyone perform.
The band is a group one must witness live to fully enjoy. While their recordings are very clean and polished, the group provides more of a raw feel when on stage.
It's no surprise that Chaidez favorite song to perform is "Like A Stranger." The album-titled track mixes an 80's pop-funk vibe with a new wave synth sound, that someone of any age could enjoy and dance to.
Chaidez lioness-like personality really transcended into the groups set. Not only does she provide excellent vocals, but the chick can dance. If she was not shaking her tail feather alongside her backing vocalist Fiona Grey, you could catch her on stop of the speakers raging, or mounted on the back of an audience member's neck. With so much movement and so much hair, at times one could think Cousin Itt performing.
She even took the time to honor a few fans of hers who tweeted her earlier in the day, letting her know they would be sporting homemade tutus.
Both acts provided a very interesting sound, transitioning their recorded material into a live set that gave old songs new feels. It was cool to see them interact with everyone at the merchandise table following the show, providing that true fan experience.