Concert review: Every seats a good seat for Josh Groban and Judith Hill
Josh Groban melted the hearts of thousands of fans with his smooth baritone voice and handsome good looks during a performance for his "In The Round" tour Saturday night.
During a set change, Groban was spotted by fans as he stood peering into the crowd in an area of empty space next to the bleachers. Fans began to shout and take pictures but nothing prepared them for what happened next.
The crowd erupted in frenzy with many fans screaming out his name and crying as Groban sauntered through the crowd from one side of the Amway Center Arena to the other. Fans on the floor level were rewarded with up close glimpses of hair flips of the star's signature wavy hair and flashes of his gorgeous smile.
The arena exploded with loud cheer as the lights dimmed and Groban made his way to the stage to begin the show.
He opened the show with "Brave", the first single from his sixth studio album, "All That Echoes," released in February. He followed up with another song from the album, "False Alarms."
In between songs he entertained the crowd with small talk about the weather and chatted about being thrilled to be in a city that he considers amusement park heaven. He also held a short question and answer session, randomly selecting questions previously submitted to him by fans.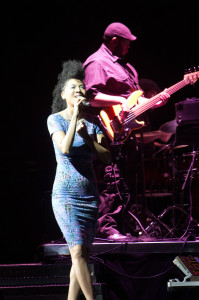 The audience laughed as Groban impersonated the voice of cartoon character Stewie from the show, "Family Guy."
After the moments of fun and laughter had ended, Groban got back down to business and softened the mood with an older fan favorite "February Song," and several other songs that he performed in Spanish and Italian.
The mood got even softer and more romantic as Groban was joined by opening act Judith Hill for a few duet songs including his song, "Remember When it Rained."
Hill is a very talented singer best known for her time spent as a contestant on the NBC television show "The Voice" where she was voted off after making it to the top eight in the competition.
She was also chosen as a duet partner for Michael Jackson's "This Is It" tour and rehearsed with him for months leading up to his death. She has recently signed a record deal with Sony Music Entertainment and plans to release an album in the near future.
Groban intended to close the show with his ultimate hit "You Raise Me Up," but the rowdy crowd continued to cheer when he finished the song and began to make his way off the stage.
He gave in and performed one last song by Charlie Chaplin called "Smile." After that, the fans seemed satisfied, smiling as the made their way out of the arena.