UCF Homecoming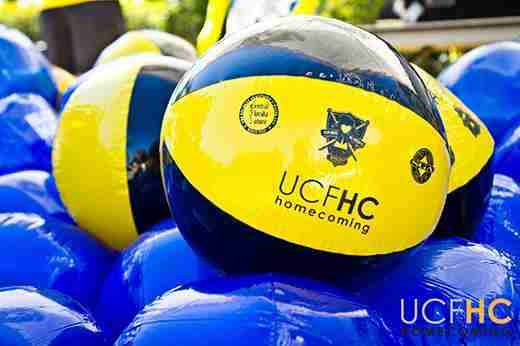 There is plenty of school spirit on display this week, as UCF celebrates its "Golden Homecoming," during the university's 50th anniversary school year.
Alumni, students, faculty and staff will be showing their Knight pride at the various events on the UCF campus.
"Comedy Knight" will take place on Wednesday, Nov. 6 at 8:00 PM and is one of Central Florida's largest comedy shows. This year's performers will be Craig Robinson and Mark Normand, and is free for UCF Students. Tickets can also be purchased HERE.
"Penny Wars" will take place Thursday, Nov. 7 and is a chance to see who will collect the most pennies for their favorite student organizations. All donations are given to Knight-Thon, the University of Central Florida's Dance Marathon benefiting the Children's Miracle Network.
"Spirit Splash" will take place Friday, Nov. 8 at 1:00 PM. This is a favorite of the students, and was awarded "Best Campus Tradition 2011" by the National Association for Campus Activities (NACA). Students will charge the famous UCF fountain as the craziness is at full blast in preparation for the big game. with plenty of giveaways and guest speakers.
The week hits its pinnacle Saturday Nov. 9 with the Homecoming Game against the Houston Cougars at Brighthouse Networks stadium at 7:00 PM.
The Homecoming football game is one of the highlights of the season. Fans will find out who is crowned Homecoming King and Queen and will enjoy watching a competitive conference football game.