Knights eye successful season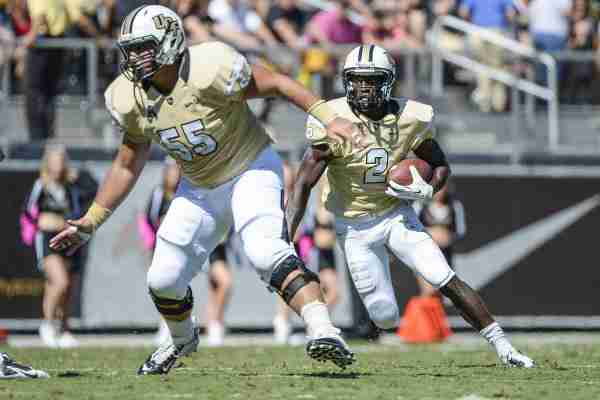 George O'Leary doesn't have too much to frown about lately as his Golden Knights football team are continuing to move up the national polls, and are on pace for their best season in school history.
"Each week we have to treat it like a championship game, attack it, and stay with our responsibilities and accountabilities," said O'Leary after UCF defeated the UCONN Huskies 62-17 to move to 6-1 (3-0 in the AAC) on the 2013 season.
The Knights found themselves ranked No. 21 in the AP poll going into the matchup with UCONN, coming off what many regarded as the biggest win in school history in a come from behind 38-35 road win against then #8 Louisville.
Much of the teams success can be credited to junior quarterback Blake Bortles, who accounted for five touchdowns against the Huskies. His 167.5 QB rating is one of the best in the country which has coach O'Leary praising the Oviedo native.
"The good quarterbacks in this country take a bad play, and make a good play out of it, and thats what he (Bortles) does," said O'Leary.
Bortles and the Knights have been able to stay in the moment and focus on the task at hand week by week as they now control their own destiny of winning the inaugural American Athletic Conference title, which comes with an automatic bid to a BCS bowl.
"In order to accomplish our goals and win the conference championship, we have to win each game. Since we don't have a conference championship game, in reality each game is our conference championship," said Bortles.
The tempo and intensity at practices this year has been a key factor in helping UCF on game days.
"If they aren't practicing at the tempo I want, I just start practice over," said O'Leary. "We try and teach that practice is hard and games are fun, especially when you're winning."
Senior wideout Jeff Godfrey echoed O'Leary: "Our progression as a unit has been great. It starts in practice where we work on improving and learning to treat every situation like a game."
UCF will play three of their five remaining games at home, with Houston coming to Bright House Networks Stadium Nov. 9, as the Knights are idle this week.
"As long as we are winning, we don't care by how much, or whose taking notice," said Bortles. "We are gonna go out and play each game like its a championship game."